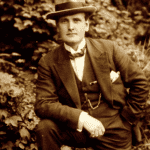 AW Wardell was an accomplished photographer and publisher of postcards from 1907 to around 1960. He was based in Brighton and latterly Worthing. You can find out much more on this excellent website. https://www.sussexpostcards.info/publishers.php?PubID=296
Bill Wardell was one of the first to publish a range of aerial scenes on postcards, pioneering an effective technique of excellent shot framing and high quality imagery from the glass plate camera he carried in the 2nd seat a biplane.
His aerial photographs of Shoreham are from 1919. It is noted he was in an Avro 504 based at the airport. Note in the first aerial photo of Shoreham (No.33) there are numerous bell tents in the SE corner of the airport – for the Canadian Air Force No. 81 Squadron stationed there in 1919, and possibly the source of Bill Wardell's aircraft taxi to get his photographs. You may also note the two hangars of the Royal Navy seaplane base at the southern end of Ferry Road.