An historically important document recording the signatures of those Shoreham Master Mariners who took out insurance and assurance cover prior to their voyages. Each were indemnified for up to £40 against loss of their nautical instruments, charts and clothes and a full £40 in the case of their death payable to the widow or nearest relative. Shoreham born Thomas Brown Kirton of Queen's Place who wrote and signed the front page conditions of the document was himself a shipowner.
The year 1853 could be misread as 1833 but has been discounted as many of the ships named were not built until after the latter. Some entries only show the year but a few do include a date – were these the date the ships were due to sail or just when they were added to the policy? In the case of James Francis of the War Hawk it had to be near the maiden voyage as the date entered was only six days after the launching!
Each entry shows the name of the ships they sailed in, the details for which (maker, year built and where, type, size, owners, other captains, routes etc.,) can be ascertained from the listings of 'Ships Built or Registered in Shoreham' and a number of the individuals identified in the 1851 and 1861 census returns on this website (see links below). Captains at this time did not always remain with the same vessel and often moved from ship to ship for different voyages, a signatory on this list could well have taken over from another on the same list.
Many of these master mariners can be seen to have enjoyed long and successful trading careers on vessels such as the 'George,' the first to use the newly built lock at Southwick, but some were less fortunate. Surrey Street residents John Cobby, captain of the May & Thwaites built ship 'Alice,' (entry No.11) and his wife Matilda perished in 1859 when their vessel was wrecked in the Turkish Bosphorus. Captain William Horrocks of Church Street (entry No.23) was more fortunate and was rescued after his ship the 'Echo' was run down by another vessel in 1862 off Flamborough Head.
The handwriting of some of the signatures and ship names are difficult to read. The complete numbered list has therefore been transcribed and appears after the original document (below) together with any other information of interest including some of the other known ships that each signatory had commanded. Any subsequent ship losses noted were under the command of a different captain unless otherwise stated.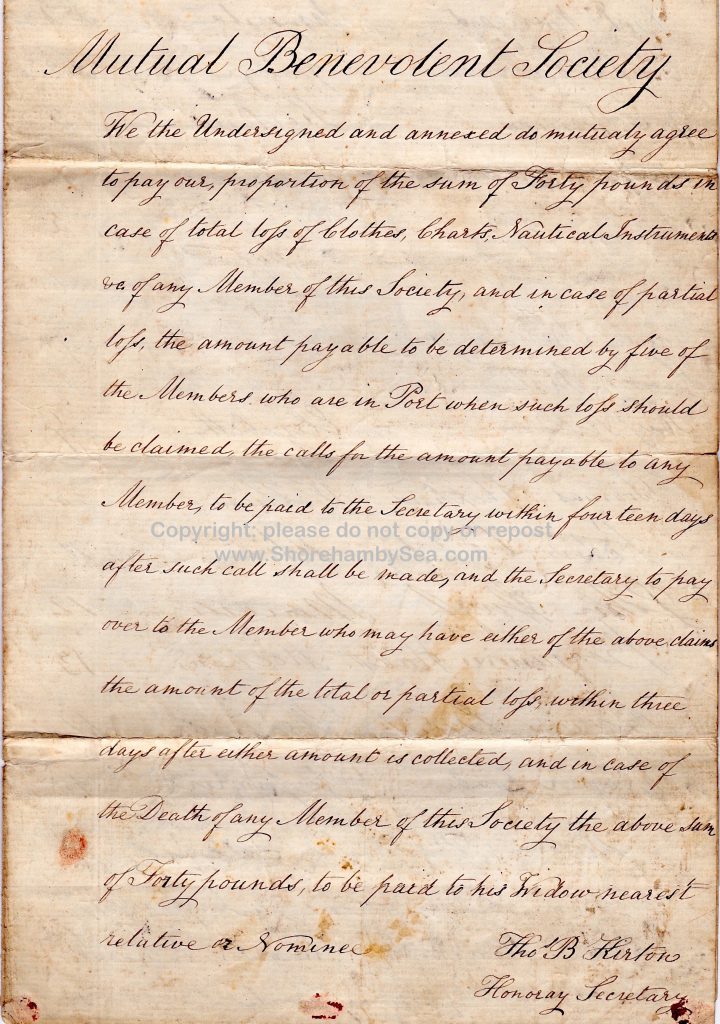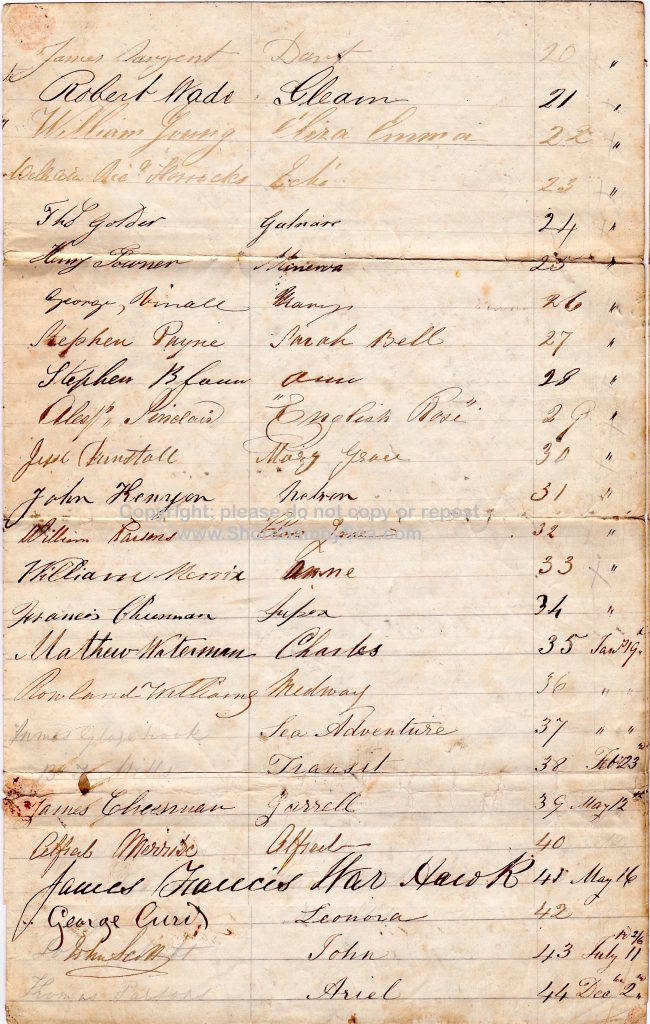 1. Richard Bungard – Samaritan – lived in New Road and also known to have commanded the Hark-Away. The Samaritan was wrecked at Pembury, off Camarthen in 1863
2. Richard Harman – George – built by May & Thwaites at Kingston in 1839 this vessel was the first to pass through the newly built locks at Southwick. It had a long trading life as a coaster but was finally wrecked near Hornsea in 1882.
3. G. Grimes – Kirtons – although not a locally built ship it was owned by, and named after, C.S. Kirton of Hove who may have had a family connection with Thomas Brown Kirton the Honorary Secretary of the Benevolent Society.
4. John Mercer – Wanderer – an Hastings built ship – Mercer also commanded the Swift
5. Edward Hyde – Mary – also commanded the Four Sisters and the Sarah Louise
6. Richard Shephard – Pike – built by James Britton Balley at Shoreham and wrecked at Scroby Sands in 1874. Shephard also commanded Alma, Volunteer and Pioneer
7. Francis Cheesman, junior – Clara Jane – also Sussex, Hark-Away and Heroine
8. Henry Mathews – Elizabeth – to differentiate this and the following 'Elizabeth' this ship was built by May & Thwaites, Kingston in 1839
9. Raymond Holland – Elizabeth – probably the vessel built in 1846 at Prince Edward Island. Holland also commanded the Ocean
10. Thomas Shephard – William
11. John Cobby – Alice – also commanded the Pike, Avenger and Victoria. In 1859 Cobby and his wife Matilda died together when the Alice was wrecked in the Bosphorus. The Alice was built by May & Thwaites at Kingston.
12. John Hugh – Mendora – also commanded Blue Bell and Capella. This vessel was owned by Edward Lucas then R.H.Penney, both of Southwick.
13. Benjamin Haslett – Mechens – built at Littlehampton in 1848.
14. George Burt – Trial – another Lucas/Penney owned vessel. Burt also commanded La Belle
15. Francis Poole – Jesamine – Lucas/Penney owned. Poole also commanded Osprey
16. John Putland – Pearl – May & Thwaites built and owned. Ship lost in 1869 when it struck a rock off Bexhill.
17. Richard Collier – Reward – also commanded Dolphin, Mariner and Antares
18. Thomas Glazebrook – Kingston by Sea – also commanded Cora Linn and Atrato
19. James Charles Greenaway – Charles Stuart – also commanded the Ocean Queen
20. James Sargent – Dart – May & Thwaites of Kingston, built and owned. Sargent also commanded Spring and Eclipse
21. Robert Wade – Gleam – also commanded Lizzie
22. William Young – Eliza Emma – also Tally Ho, Wild Dayrell and Heroine
23. William Richard Horrocks – Echo – Horrocks rescued after the Echo was run down and sunk by another vessel at Flamborough Head in 1862
24. Thomas Golder – Gulnaire – also commanded Corsair
25. Henry Towner – Minerva – a long lived vessel built at Lynn, Norfolk in 1802. Towner also commanded the T. F. Gates
26. George Vinall – Mary – also commanded Hero
27. Stephen Payne – Sarah Bell – also commanded Heroine
28. Stephen Blann – Ann – possibly one of the Gorringe owned ships that he used from the wharf at Kingston
29. Alexander Sinclair – English Rose – built by May & Thwaites in 1847. Sinclair also commanded Blair Atholl and Akbar
30. Joseph Tunstall – Mary Grace
31. John Kenyon – Nelson – a schooner built in 1842 that foundered of Flamborough Head in the 1870's when the captain and crew were lost.
32. William Parsons – Clara Jane – also commanded Alma and John Sharp
33. William Merrix – Anne – Merrix was the captain when this vessel was wrecked in a storm off the Seaford Roads in 1860
34. Francis Cheesman – Sussex – built by May & Thwaites in 1840. Cheesman was the first master and part-owner. He also commanded Hark-Away
35. Mathew Waterman – Charles – built by May & Thwaites of Kingston in 1846. Waterman also commanded the William Marsden
36. Rowland Williams – Medway – also commanded the Sir Henry Ranking
37. James Glazebrook – Sea Adventure built by May & Thwaites, Kingston in 1848
38. B. T. Mills – Transit – probably the Transit that was wrecked in an 1860 storm on the beach east of the Chain Pier
39. James Cheesman – Garrell
40. Alfred Merrix – Alfred – Alfred Merrix was the first master of this vessel, built by May & Thwaites in 1847 and was probably named after him as joint owner – the ship is noted as 'lost' in 1864. Alfred also commanded the George and the Charles
41. James Francis – War Hawk – built by James Britton Balley at Shoreham and launched at 12 noon on Tuesday the 10th May 1853 – the entry in the listings is dated the 16th May and must be very near the time of the vessel's maiden voyage. Built to a design ahead of its time the ship eventually went down after bad weather off the coast of Estonia in 1863. The full story of the War Hawk can be seen in the article of the same name on this website. James Francis also commanded Wild Dayrell and Hastings
42. George Curd – Leonora –This vessel was built in 1853 by James Britton Balley of Shoreham and George Curd was the first master so, like the War Hawk, this may record the maiden voyage as well.
43. John Scott – John – also commanded Transit
44. Thomas Parsons – Ariel –built by May & Thwaites of Kingston in 1852 and Parsons was the first master. The Ariel was lost on the Goodwin Sands in 1872
45. Edward Poole – Ruby – Edward Poole also commanded the S.S. Vesta and Edward Poole junior commanded Atrato
46. John C. Tidey – William Marsland – built at Shoreham in 1853 but builder unknown. Perhaps a maiden voyage. By 1860 the vessel went on to work the Swansea/South America route. Tidey also commanded the Fanny
47. Charles Chessell – Eliza Jane – also commanded the Claude
48. William Cuddington – Nestoria
49. Richard Ratcliff – Mary Ann – Built by May & Thwaites in 1848. Ratcliff was the owner and first captain. The vessel ran ashore on the west side of the harbour during a storm in 1860
50. William Field – Fleta – also commanded the A. Patterson
51. Thomas Austin – Medway – also commanded the Eliza and Hark-Away
52. Walter Richards – Naylor
53. Edmund Barham – Sanders (beneath it is written 'Atwood') – 195 ton schooner built by James Britton Balley for the coastal trade in 1841
54. William H. Mitchell – Minerva – also commanded the John Sharp and Merchant. The brig Minerva had a very long life having been built at Lynn (King's Lynn) in 1802. It was registered at Shoreham for a while from 1850 whilst under the ownership of Richard Ratcliff (see 49) who also sailed her and used on the Hartlepool coastal trade.
55. No apparent entry
56. Stephen Sherman – Eliza Emma
57. No entry
58. George Williams – Champion – also commanded the Thomas English and Britisher. The Champion was a brand new 297 ton brig built in 1853 by James Britton Balley for Thomas English of Shoreham and others and used on the coastal trade. It was lost near Whitby in 1878
(Original document donated by Jean Tyler and gifted by ShorehambySea.com to West Sussex Records Office.)
Roger Bateman
Shoreham September 2017
Sources (including links to related items):-
1851/61 Census Returns https://www.shorehambysea.com/census-1851/ and https://www.shorehambysea.com/1861-census/
Ships Built or Registered in Shoreham – Roger Bateman
The Ships & Mariners of Shoreham – Henry Cheal (also contains a list of Shoreham's Master Mariners and the ships they commanded)
War Hawk – Roger Bateman https://www.shorehambysea.com/war-hawk/