The 1901 census shows Agnes E. Rhodes at 'Rhodesia' in Bungalow Town with her three children, Ellen (stepdaughter), Eva and Winifred. Agnes was the daughter of William Sherman a Stepney, London, mariner. At the age of 18 she married widower John Richard Rhodes in 1889.
John was a successful publican who ran a succession of pubs including three impressive looking buildings, the 'Britannia' with his brother in the High Street of St. Pancras (circa 1881 – 1890); then on his own account at the'Old Bell' in Covent Garden (circa 1891 – 1898); then the 'Rising Sun' in Tottenham Court Road after his brother had had it rebuilt, all three buildings still exist.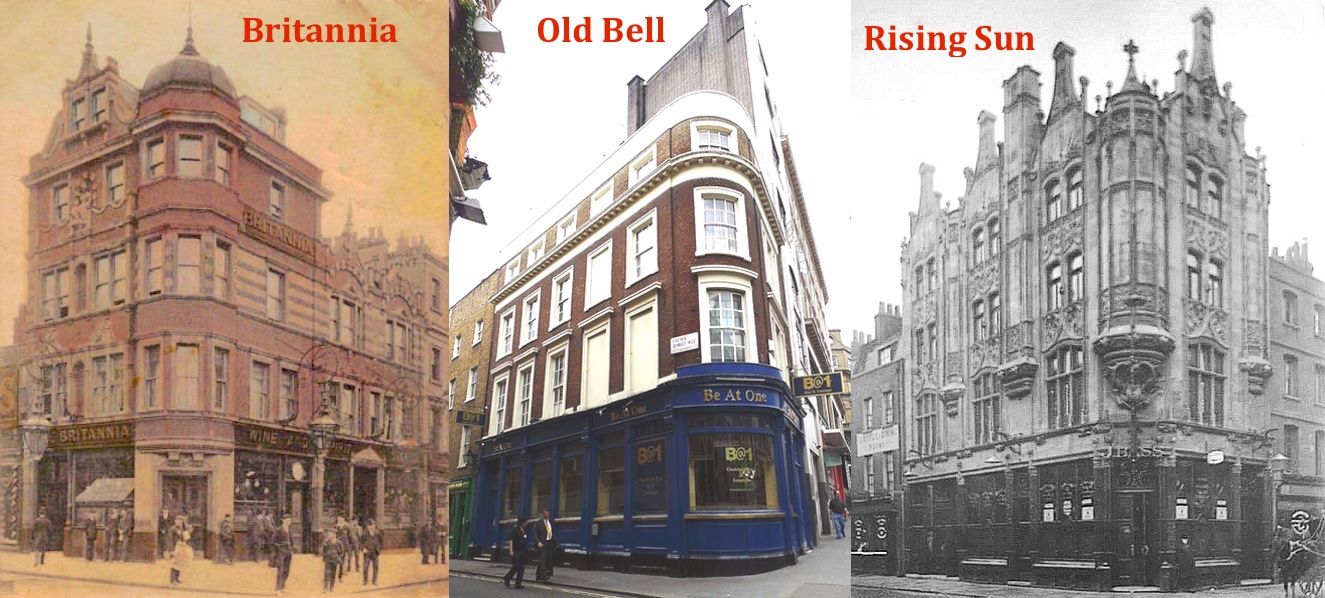 The 'Rising Sun' is still a pub today with a magnificent antique Victorian style interior. Even more impressive is the superb Art Nouveau/Gothic mix style exterior that was added in 1897 when the original 18th century inn was rebuilt. There is a plaque on the building recording that year and the name of the builder (or perhaps more correctly the person responsible for its being built) F.A. Rhodes who was John's brother Frederick Arthur Rhodes, and Treadwell & Martin, well known architects of the period specializing in developing small, narrow-fronted sites in London's West End
The couple's new residence on the beach appears to have been started in 1898 which suggests that husband and wife had already decided by then to create and finance a new home or holiday retreat there, halfway between Widewater and the point where the Church of the Good Shepherd now stands. They named it using a play on their own surname, a fantastic looking castle-like building that transpired to be the most impressive, most photographed and best known 'bungalow' on the beach.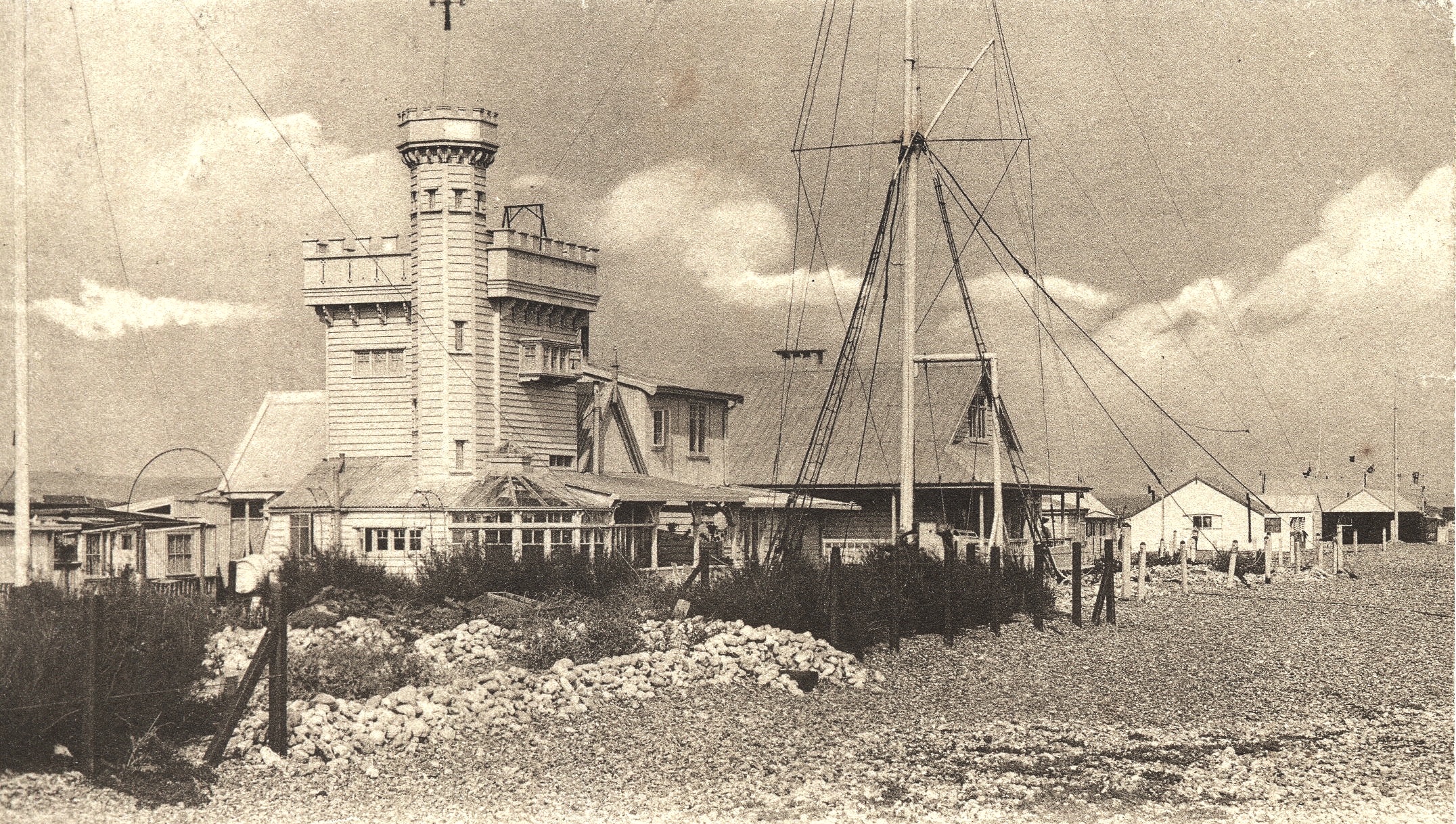 It may only have been made (largely) of wood and the style may have been considered eccentric but careful observation of the photos show it to be well designed and built that in quality (and quantity) was obviously superior to most of the other dwellings in Bungalow Town. Is it too fanciful to imagine that having been started around the same time as work on the 'Rising Sun' was completed that John had commissioned the same architects for 'Rhodesia'?
The Rhodes family hadn't been long at at the latter when John died in March 1900 at the age of 35 leaving his wife a very useful £2,334 (you could buy a three bedroom house then for £150) and most likely after 'Rhodesia' had been paid for. In the year of her husband's death Agnes struck up a relationship with a good looking young lad, Arthur Charles Maple – he was from the well known oyster merchant family in nearby Shoreham's High Street and a leading player in the town's football team that, with Arthur in the team, later became the most successful amateur club in the county at that time. The relationship became serious as banns were called at Lancing's parish church (Bungalow Town was then in Lancing parish) but for whatever reason a marriage between the pair never happened. Arthur was later to marry Ivy Winton, one of the daughters of William Winton the organiser of Shoreham's carnivals and regattas.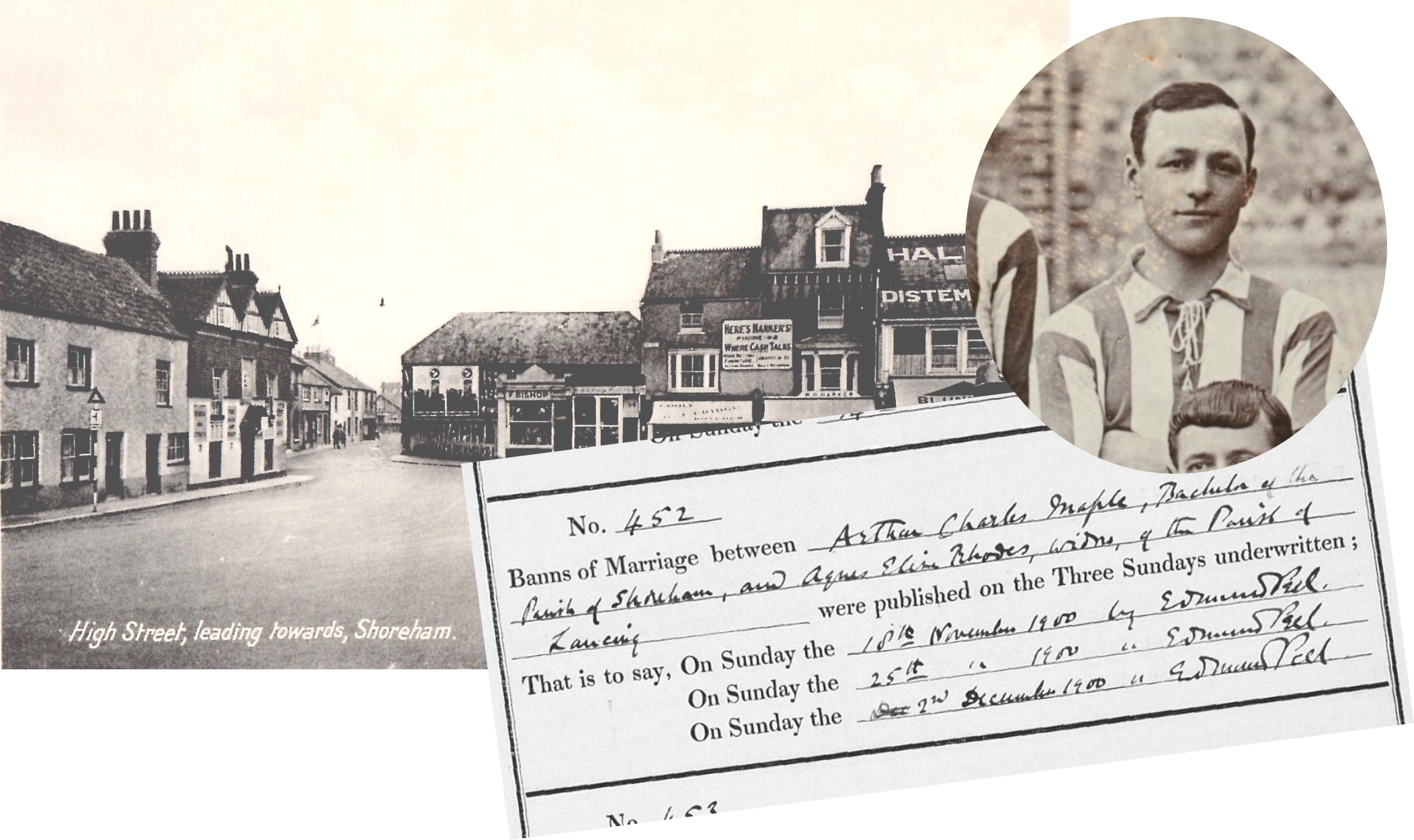 Sadly, Agnes and her three children were fated not to remain long there, just a few short years in fact as Agnes is next recorded at Boundary Road on the Portslade/Hove border where she died in 1904. For some reason she did not leave any of the £700 in her will to her own children but to others of the Sherman family of her birth.
Why did the marriage with Arthur Maple fall through? Why did the Rhodes family leave their beach home so soon? Was there some financial problem or was Agnes so ill she required help that was not available at home? John Rhodes' first wife died at the age of 35, so did John, so did Agnes and her premature death may answer some of these questions. The cause of Agnes' death is poignantly recorded as cirrhoses of the liver – a condition then that was not unusual for those in the victualling trade. It is all too easy to come to a moralising conclusion for unfortunates such as this but as the landlord's wife Agnes would have worked with a team of seven barmaids and other staff besides looking after her children. The hard work there doubtless included long hours, socialising with the customers and sharing drinks with them – over the years the addiction took hold.
After the Rhodes family had left Rhodesia, the large building was divided internally and separately occupied by three residents. Like so many of the old wooden bungalows on the beach it eventually succumbed to a disastrous fire that totally destroyed it in 1923.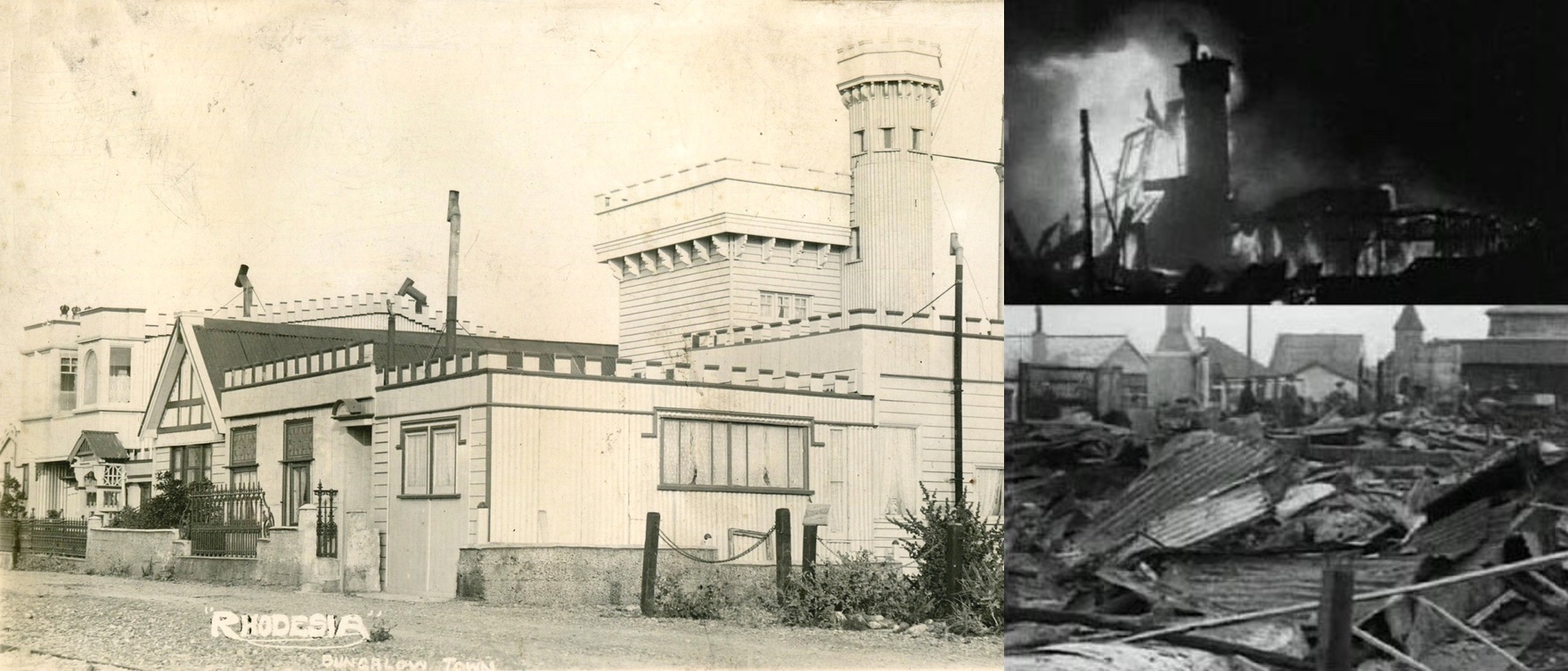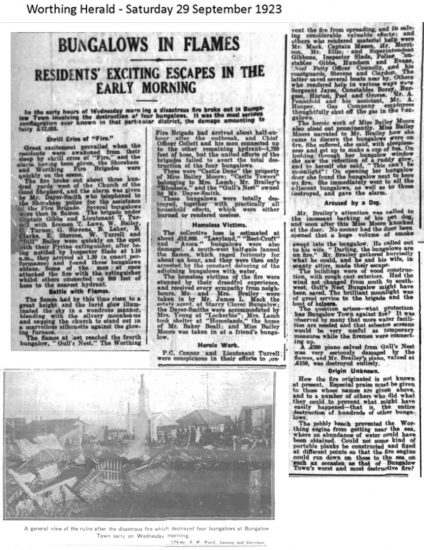 Roger Bateman
Shoreham
May 2016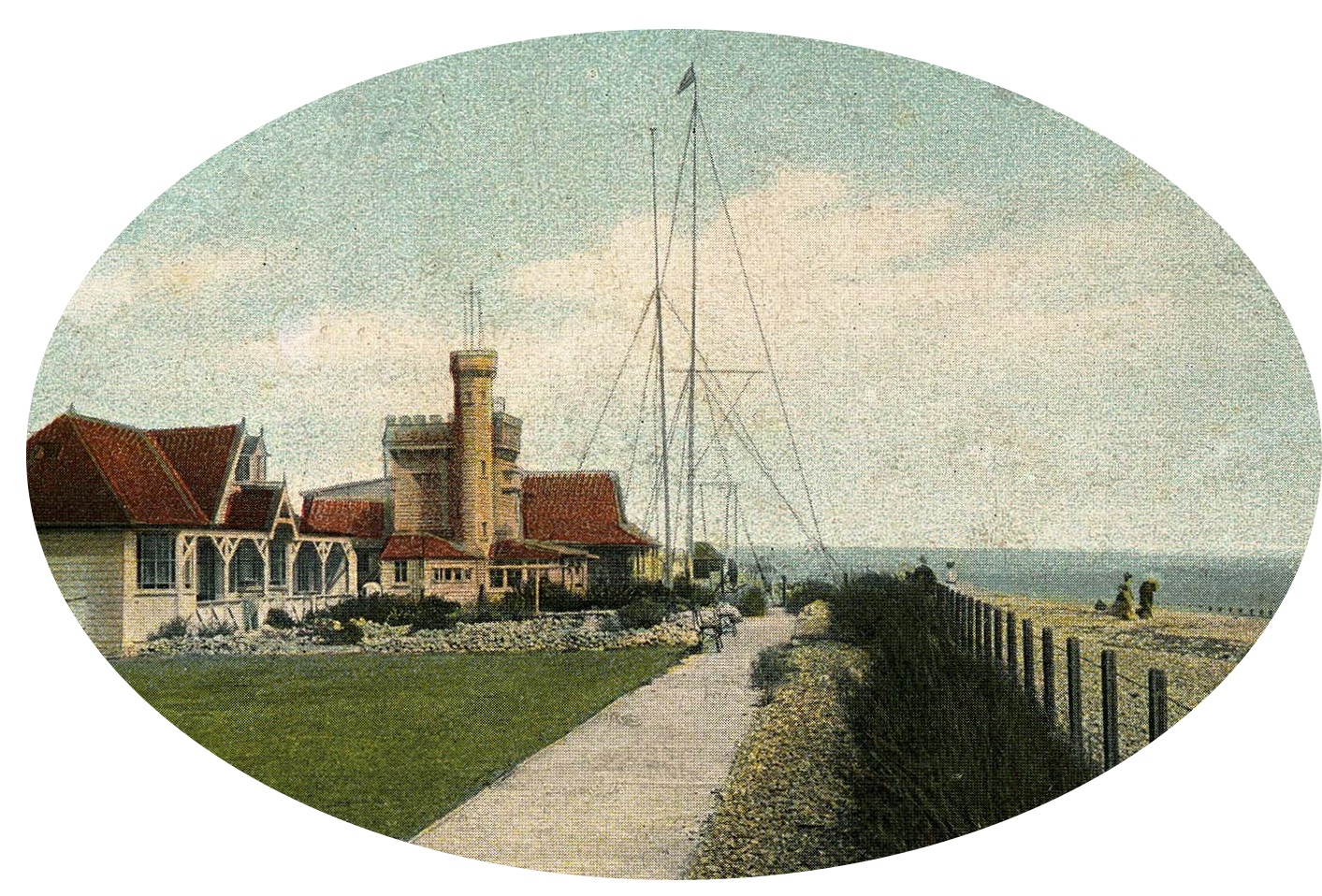 Sources:
Lancing Parish Records
Census Returns
Probate Records
Shoreham FC – Early football in Shoreham and the Glory Years
Shoreham/Lancing photos from the Doris Steers, Peggy Bailey,Marlipins Museum and Winton collections
Old photos of Britannia pub Peter Fry and Rising Sun pub John Carnaby from http://pubshistory.com . Rising Sun today photo © Copyright Julian Osley and licensed for reuse under this Creative Commons Licence.
with special thanks to Brian Roote