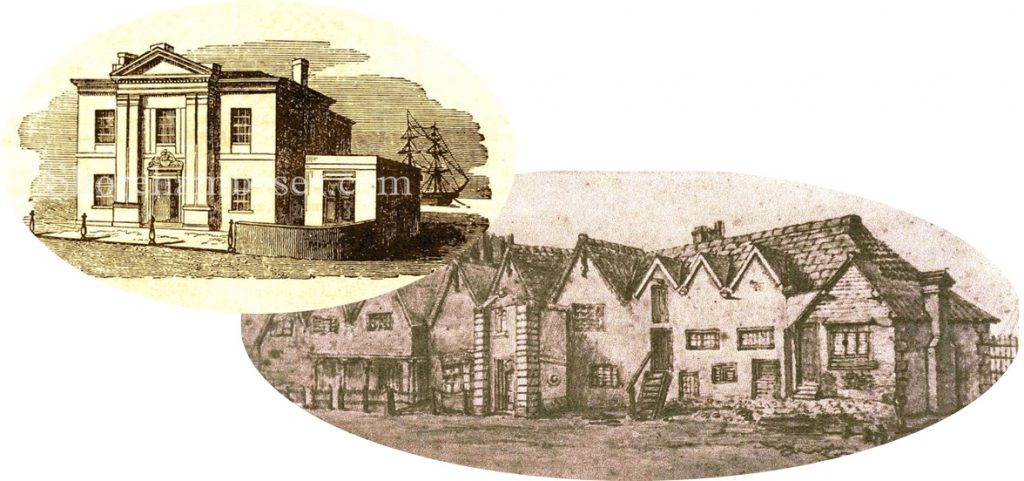 Built as a Custom House in 1830 by George Henry Hooper at the expense of the ancient Poole family mansion that had stood on the same site for centuries before. Hooper was himself a descendant of the Poole family and the new building was, initially at least, an attractive one designed by Sydney Smirke R.A, but its appearance was somewhat compromised during the subsequent enlargements of 1920.
The Custom House had previously been based in Church Street but was now conveniently sited in the High Street next to a wharf upon which to offload contraband goods and a massive cellar or vaults in which to store them. In 1880 the Customs moved to Southwick when the building was taken over by the Local Board to become Shoreham's Town Hall. During its time as the town's civic centre part of the western side also housed the fire brigade; the large cellars (which extend out under the High Street) were used as a firing range for the local rifle club and the larger rooms were often let for social functions and dances.
Except where stated the photos in this collection were taken to record the stained glass windows there (probably installed in 1920) and the vaulted cellars beneath.
Roger Bateman
Shoreham
March 2012 (updated November 2020)
Various internal images of the 1920's stained glass windows. The last three photos show the main function room as it is now split into two with an upper floor followed by the Fire Brigade Dinner circa 1930 showing the room as it was originally. (Photo Sussex Archaeological Society Collection PP SHORM 95 2686 2)
These six views (2012) are of the vaulted cellars beneath the building once used by the Customs for storing smuggled goods confiscated from ships off the Sussex coast and elsewhere. The physical extent of the cellars indicates that smuggling locally was once very significant and is further emphasised by the considerable number and value of subsequent auctions in Shoreham selling off the contraband. From 1907 it was used as a shooting range.

Seeing the images now I remember thinking at the time how spooky it was and that parts of it didn't look too safe (last photo) – it didn't help much either when the lights went out and I had to find my way out by repeatedly using the flash on my camera.
The opening of Rifle Club's New Indoor Range 3rd August 1907 by Sir Henry Aubrey-Fletcher (believed to be 5th from left in line standing). Photo taken at the rear of the Town Hall Standing W.E. Winton extreme left , Hiram Maynard, coxswain of the lifeboat next to him and next but one Richard Barnett Dell, JP, town notary and sportsman holding hat and stick. The vaults continued to be used by the Rifle Club until 1968.
(photo Winton Collection W9hc)