The names on this Roll of Honour have been collected from the memorials in Shoreham's churches, cemeteries, the Commonwealth War Graves Commission, Soldiers Died in The Great War and includes many whose names are not shown on the town's War Memorial. This record has been compiled independently of the Roll of Honour web site and includes more comprehensive information gleaned from Civil Registrations, Census Returns, Shipping Passenger Lists and some Service Records.
Opinions are those of the compiler and any mistakes are his alone.
These were ordinary men called upon to do extraordinary things and passed the test with courage, dignity and honour.
SEMPER RECORDEMUR
Brian Roote,  October 2010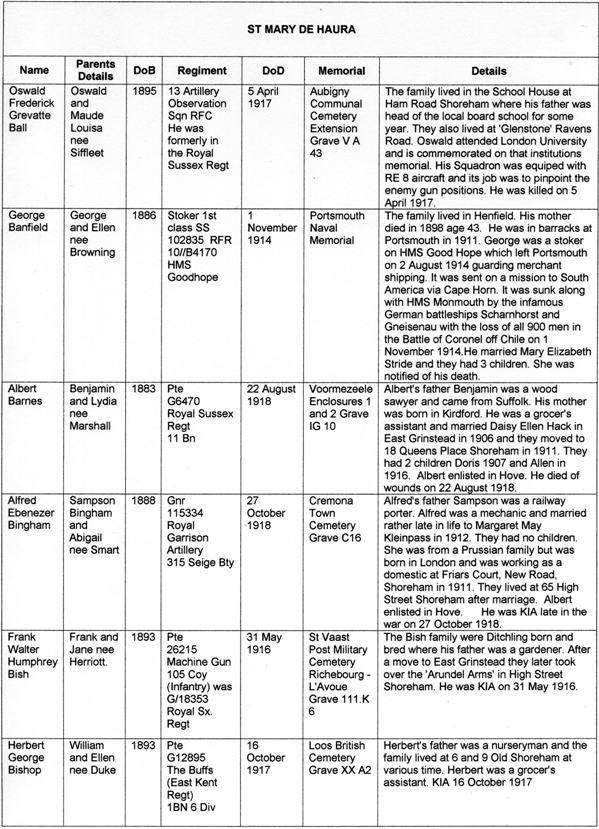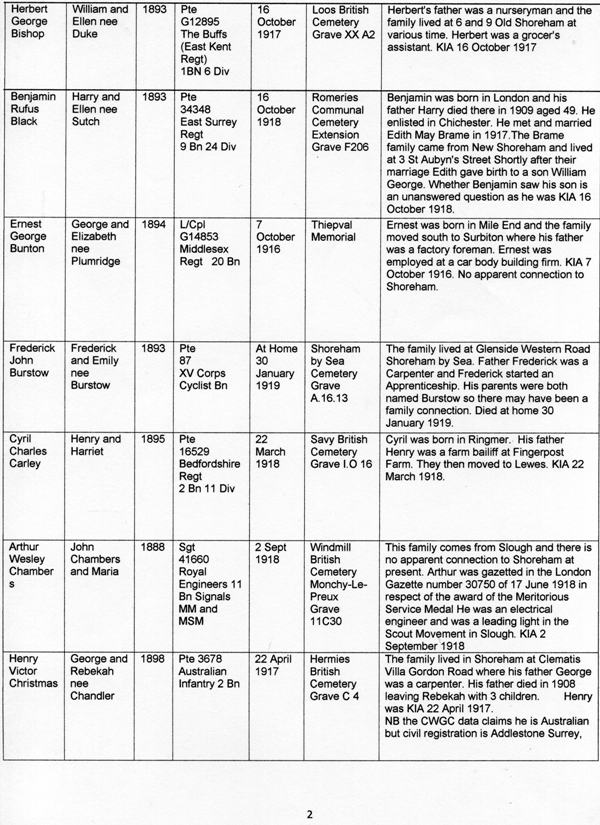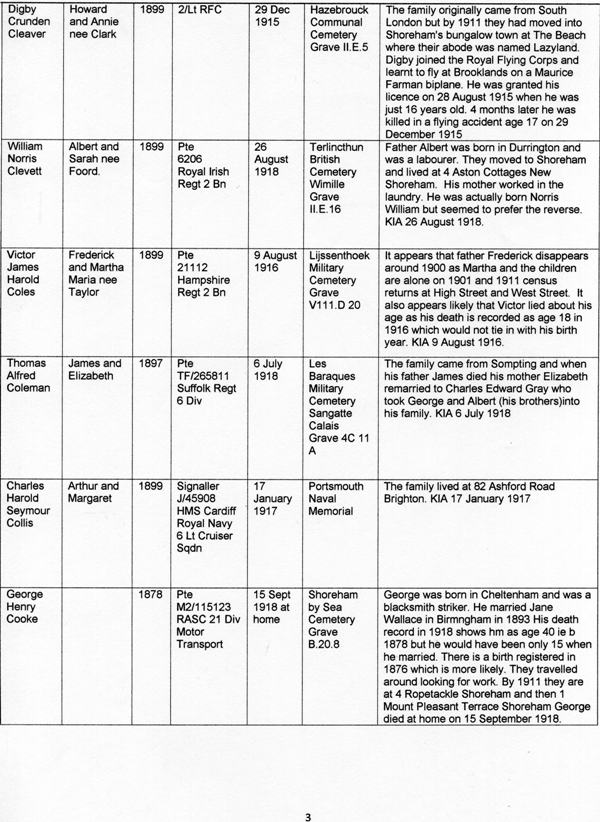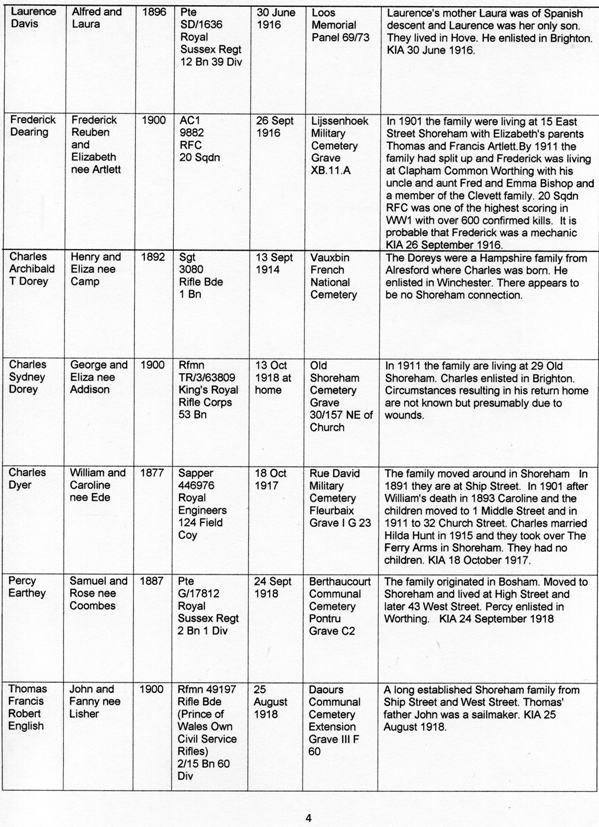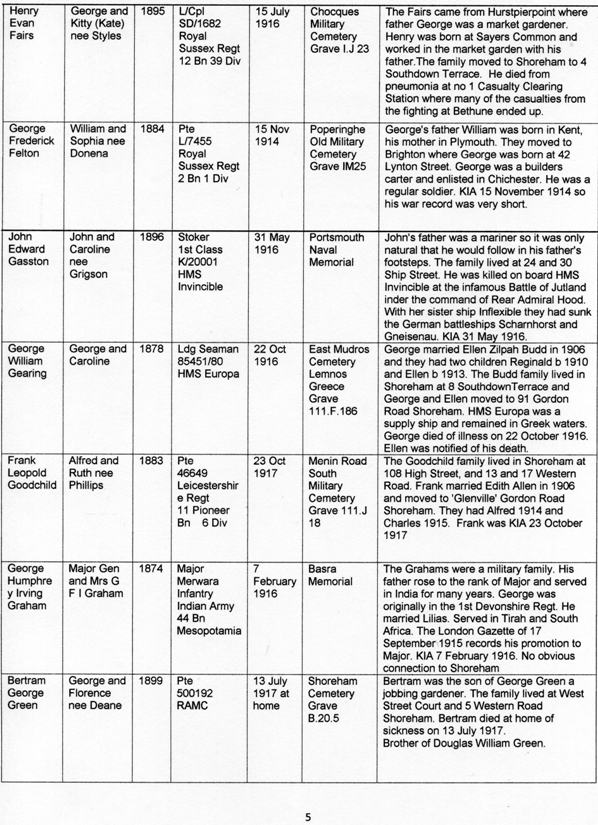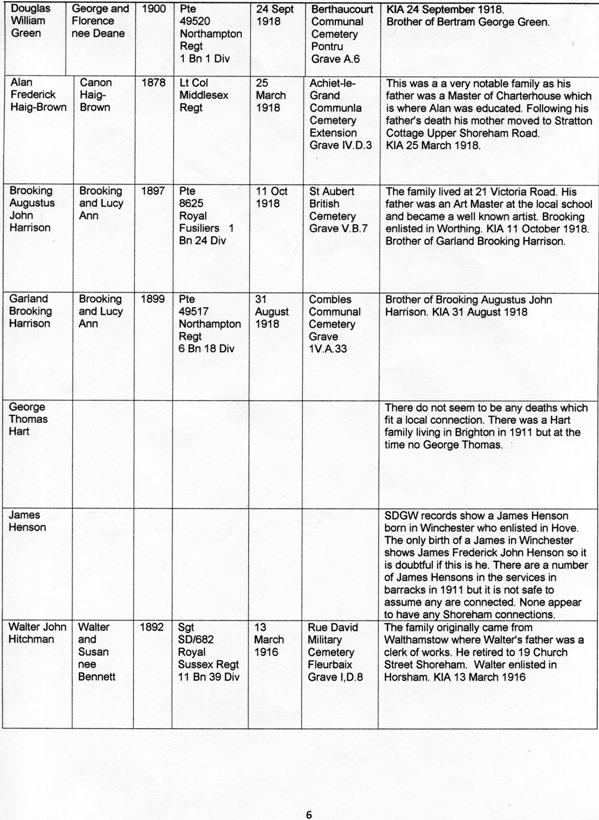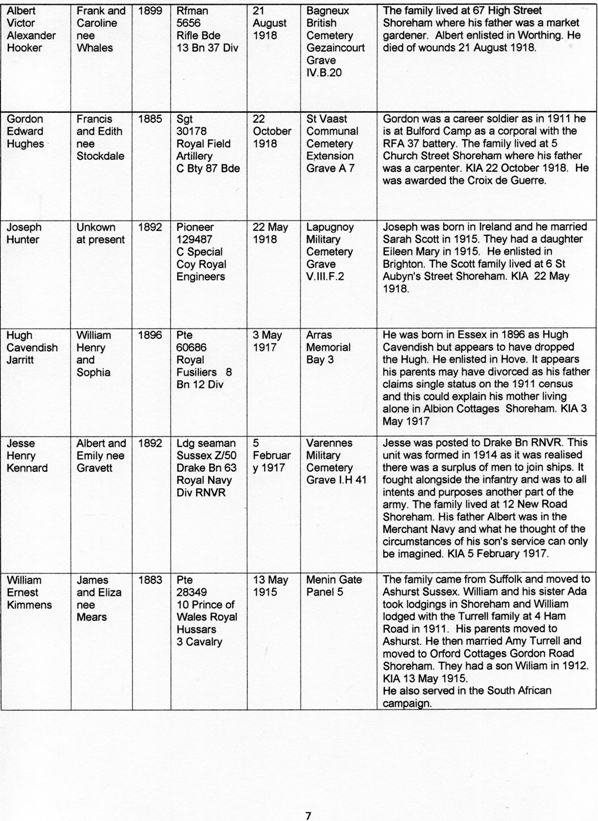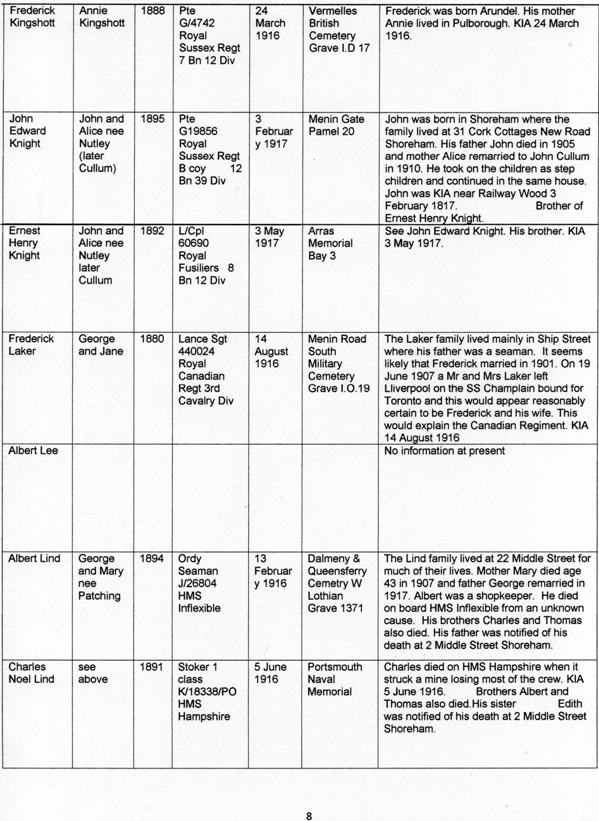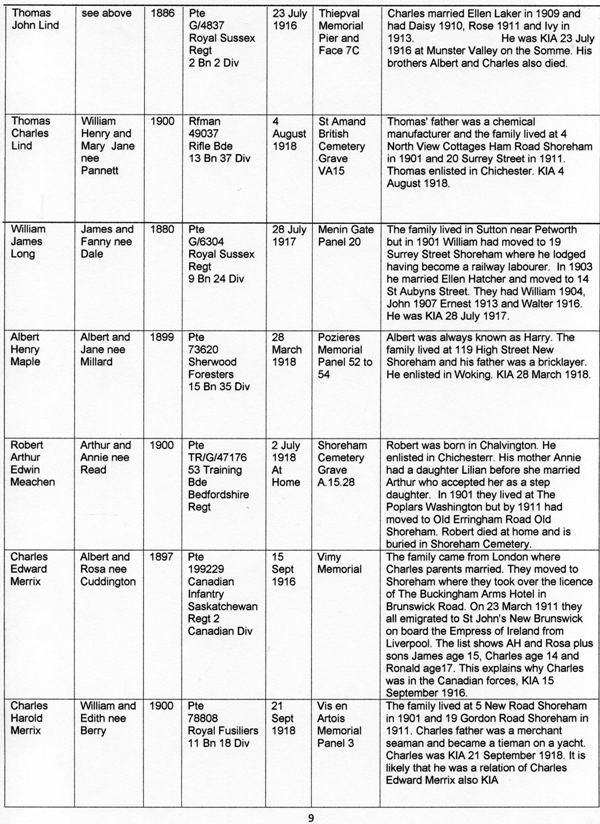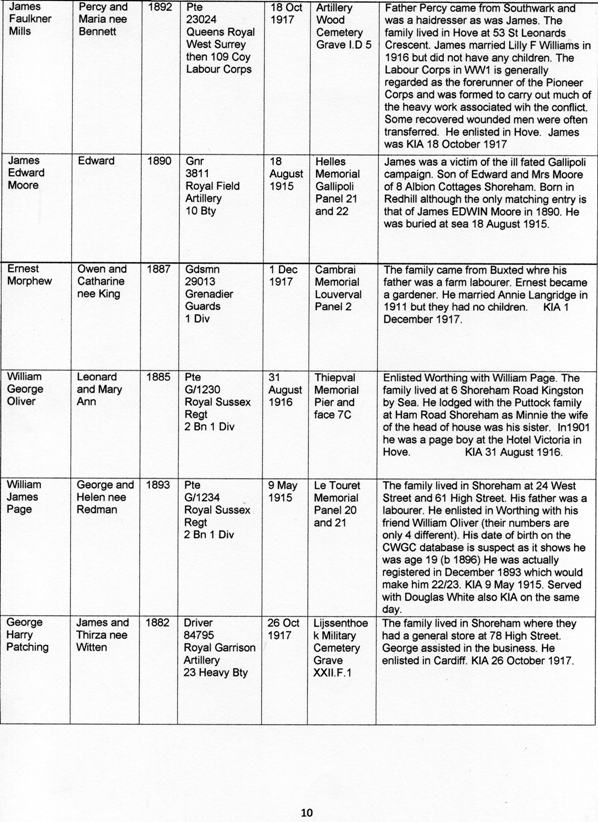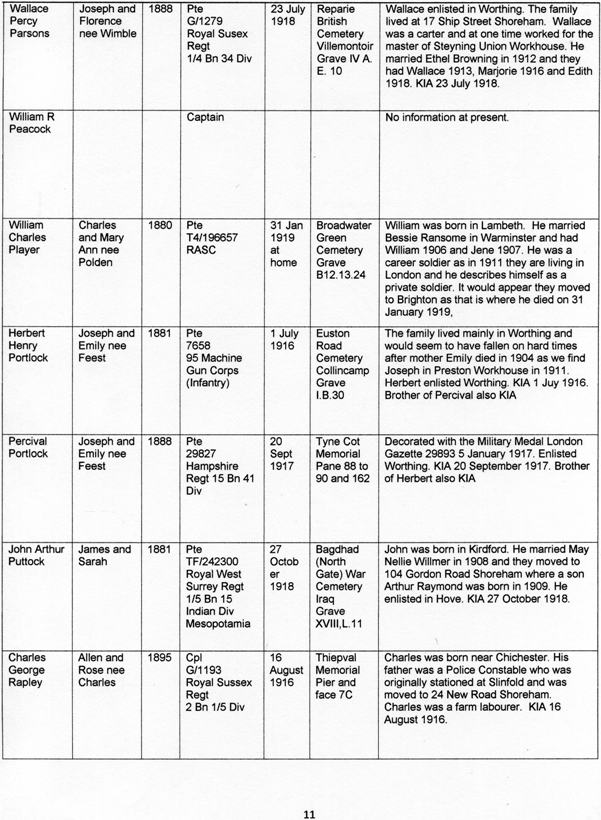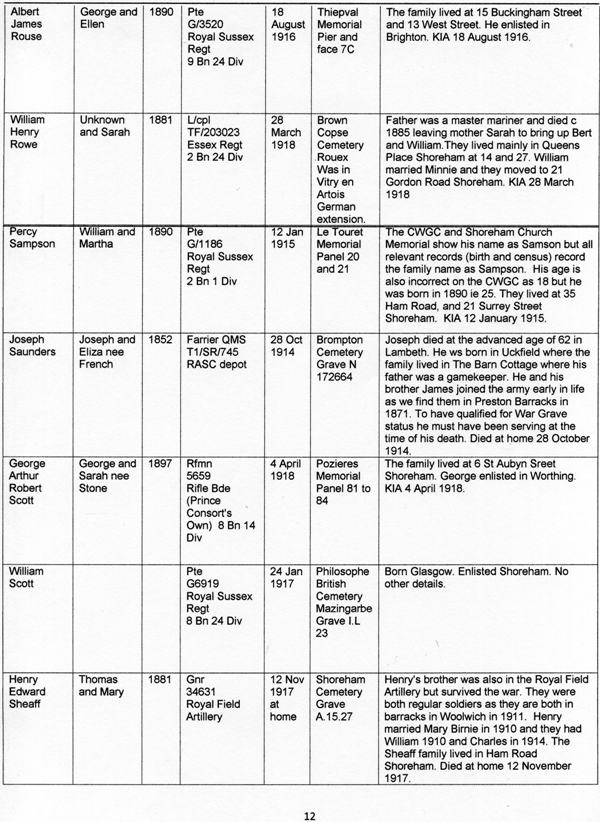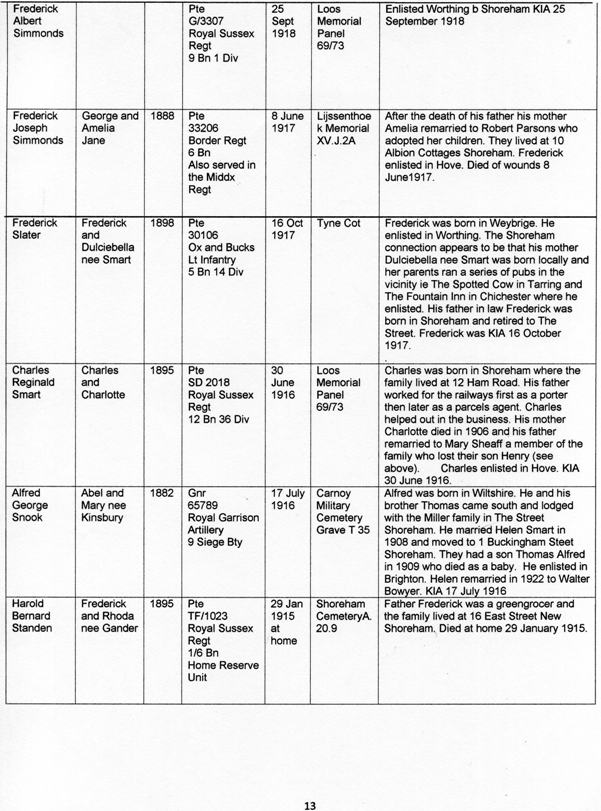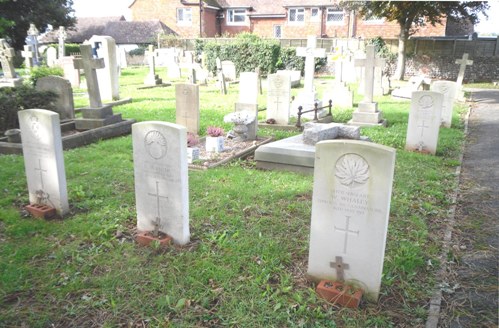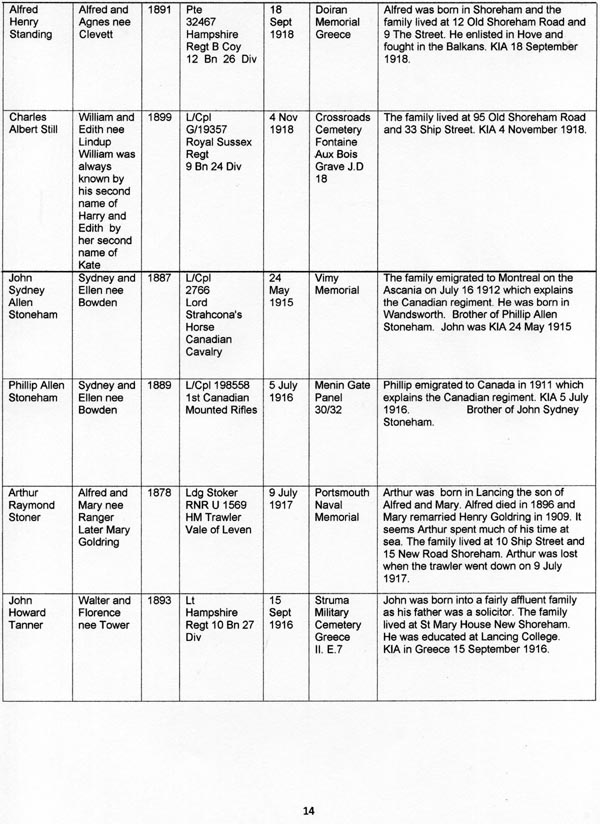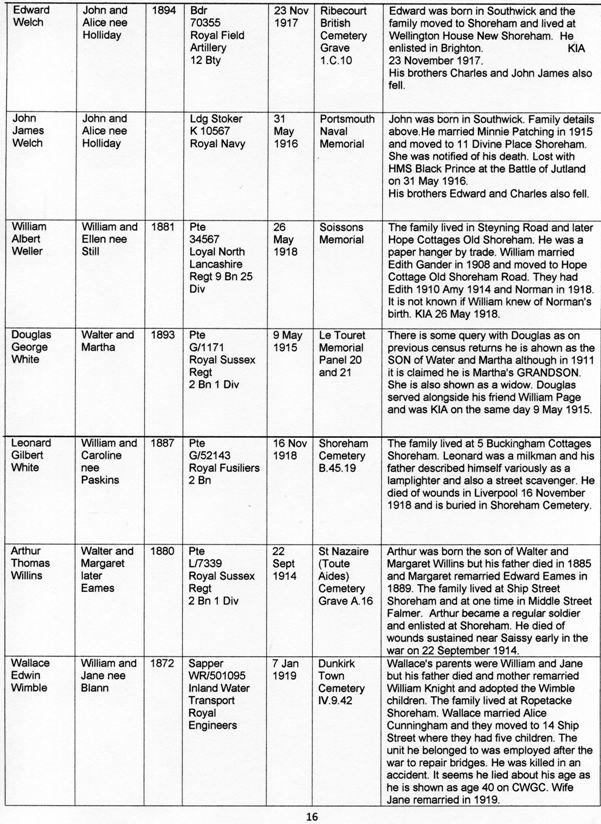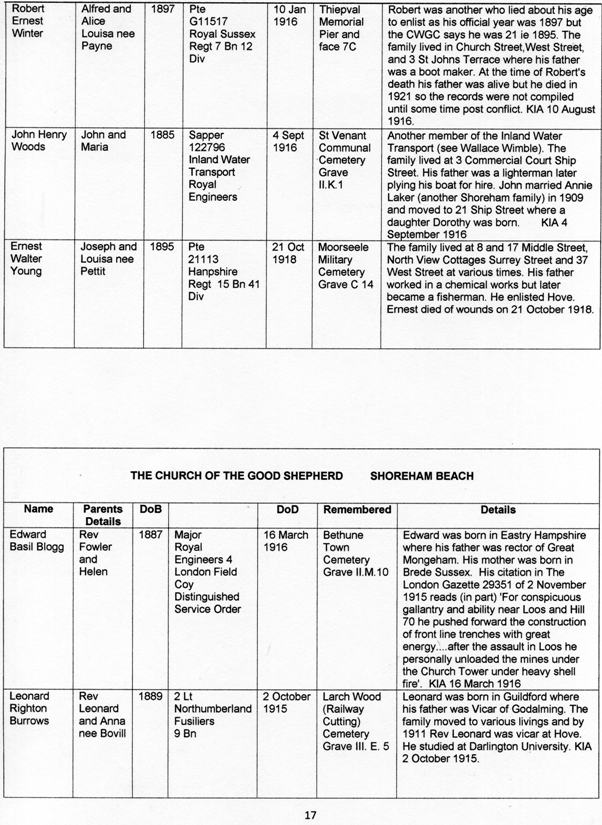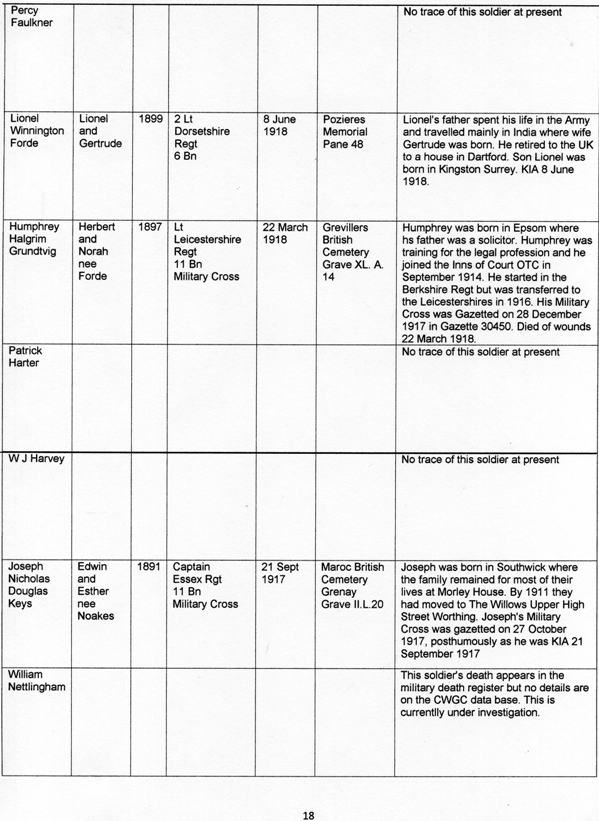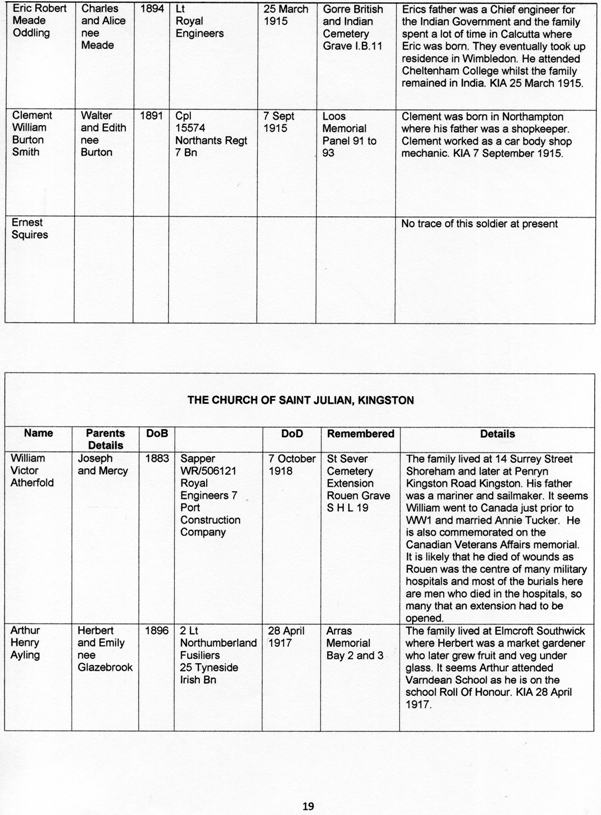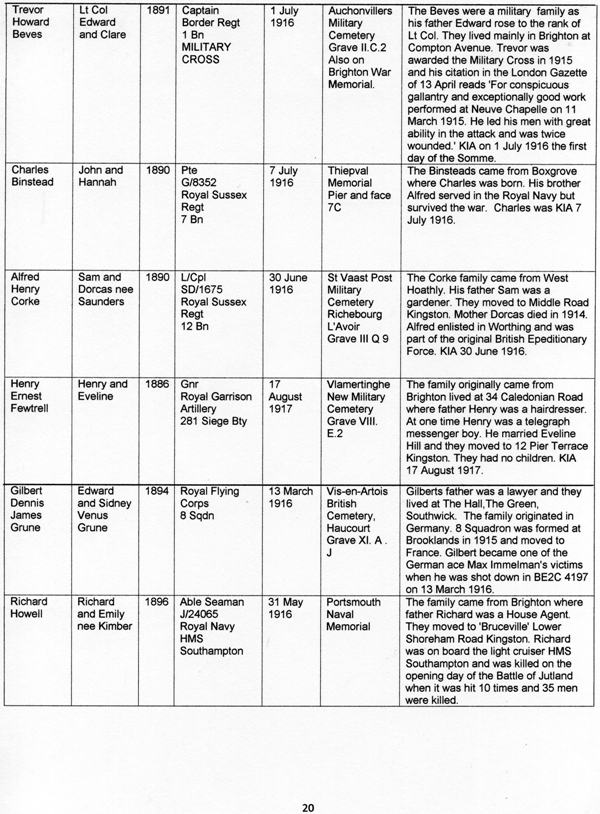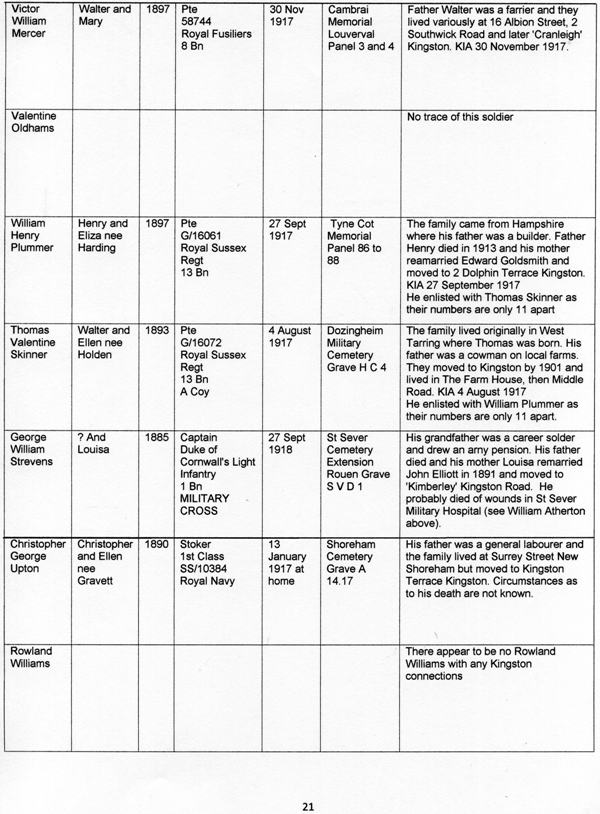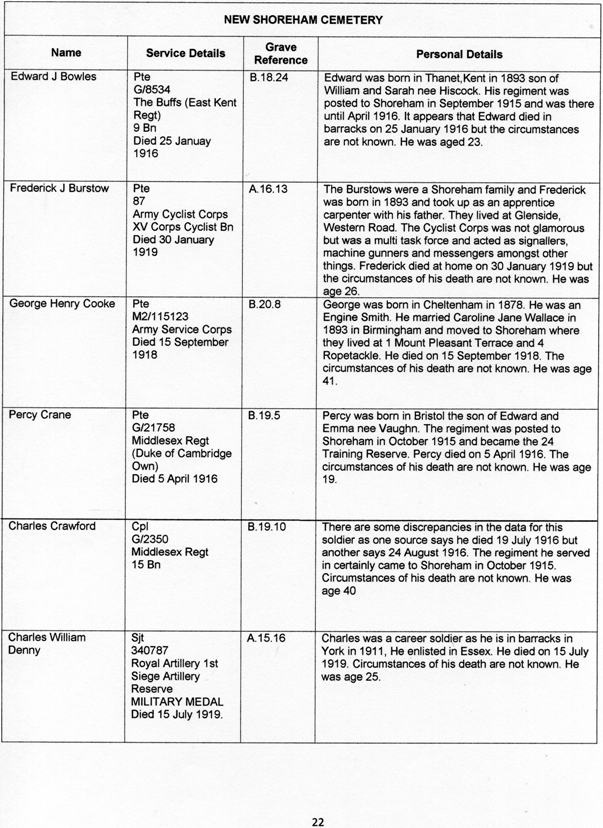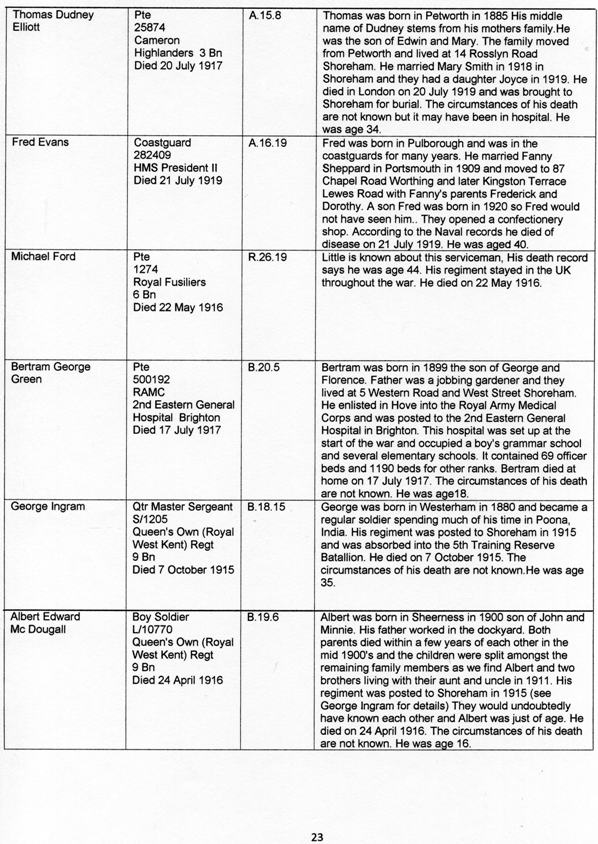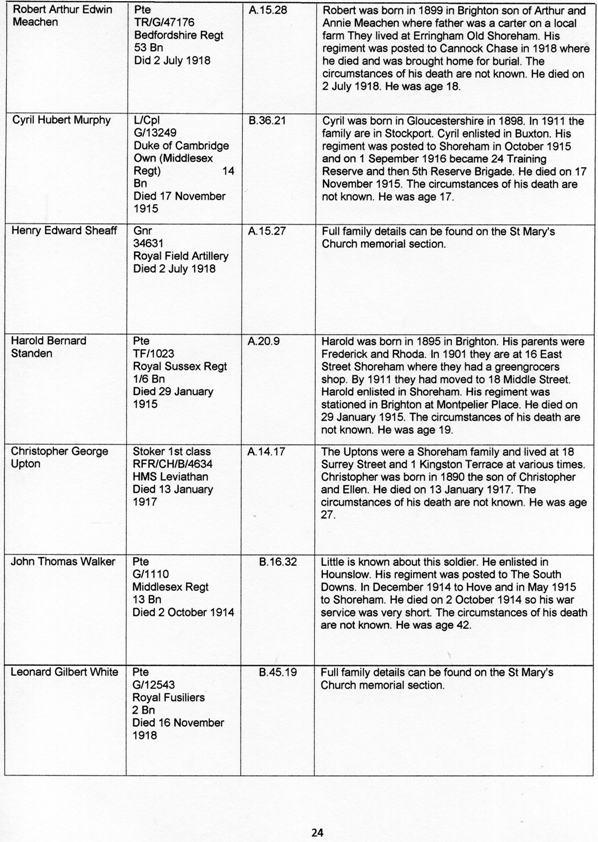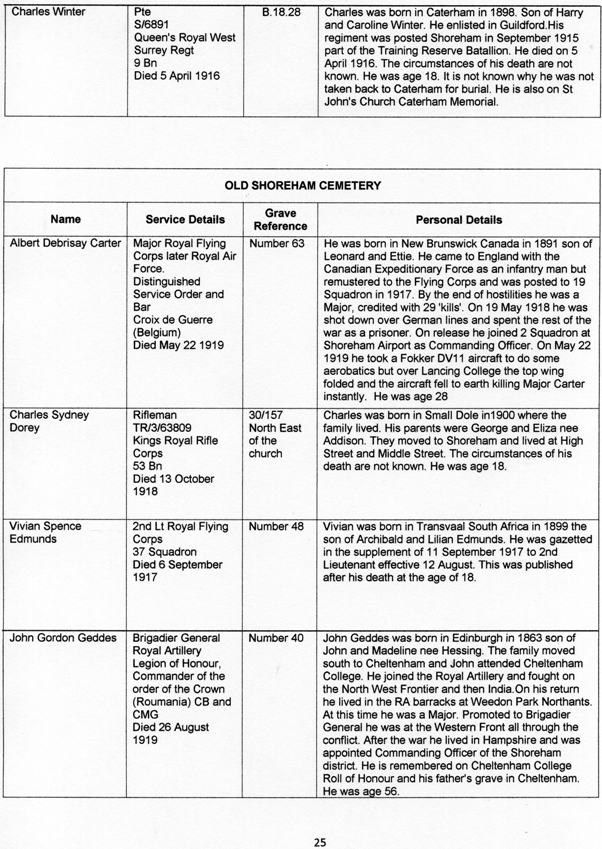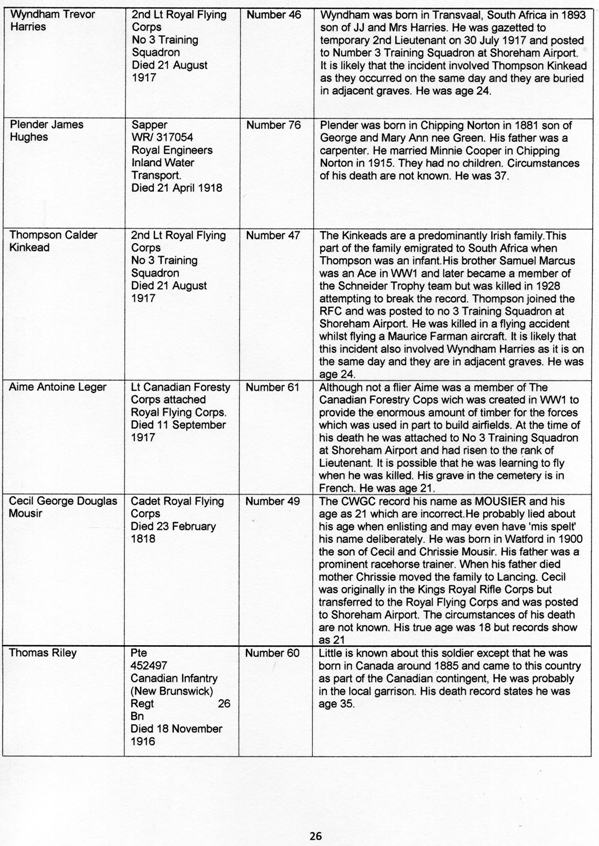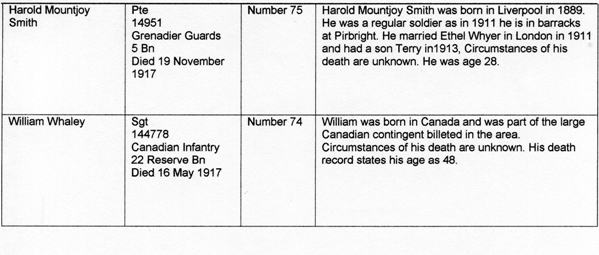 There are just two other Shoreham related fatalities that do not appear in any of the aforementioned records but are nevertheless felt to justify inclusion here:-
Lt. W.F.N. Sharpe, RFC
W.F.N. Sharpe of Prescott, Ontario, one of Canada's first military flyers, was involved in that country's initial attempts at creating a national air force. During preparations for war in September of 1914 the Canadian Aviation Corps was formed. A Burgess-Dunne biplane was purchased from the U.S.A., crated and shipped to England accompanied by Sharpe but after trials at Salisbury Plain the aircraft was considered unsuitable for military service. Sharpe subsequently joined the Royal Flying Corps and was posted to Shoreham for training. Whilst on his first solo flight in a Maurice Farman biplane he crashed and was killed thus becoming Canada's first aviation casualty. He was buried at Bear Road cemetery in Brighton.
Lt. Eric Clowes Pashley, RFC
Born at Yarmouth on 25th July 1892 Eric Pashley and his brother, Cecil, were two of Shoreham's earliest pioneer flyers and were responsible for much of the initial development of flying and flying clubs at the airfield. With the outbreak of WW1 Eric test flew with the Vickers Aero Company afterwards enlisting with the RFC in 1916. He was posted to 24 Squadron in France which was then equipped with D.H.2 'pusher' fighters. Whilst there he scored 8 victories thereby becoming an official 'ace' but was killed in a flying accident on 17th March 1917. He is buried at Cerisy-Gailly Military Cemetery, Somme, France.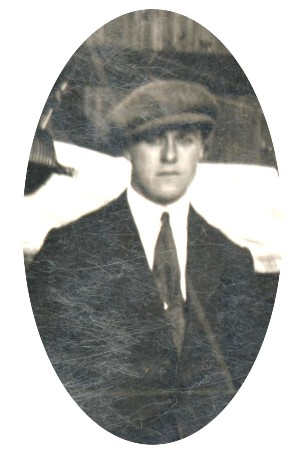 Douglas Chester Sgt Royal Fusiliers KIA 24 April 1917.
Residing at 42 Hathaway Road Croydon (lodger) he was a bank clerk in the Croydon Branch of Nat Provincial. Educated at SHOREHAM GRAMMAR SCHOOL and included with the family on the 1901 and 1911 census returns at Station Road Steyning and Atholl Villa, Steyning. His father was a solicitors clerk.