The Rise and Fall of Bachelors' Hall
Discovered amongst the pages of the Winton Collection of photo albums and scrapbooks this little known booklet was published in 1891 to celebrate the six short years of a long forgotten society of Shoreham bachelors dedicated to the noble state of remaining single. Nowadays such a publication would probably be condemned as sexist and perhaps even silly. Nevertheless, it records an organisation created in 1885 by a group of Shoreham's young men whose names are still familiar to those interested in the town's history .
A quick scan of the 1891 census returns tells us that of those prominent amongst the founder members (often disguised by humorous pseudonyms) were:- Arthur F. W. Eade, a 23 year old commercial traveller who later developed the family grocery business in Shoreham; G. A. Dell, 20 and then an auctioneer's assistant in his father's business; H. Stovold Brigden, 23 employed as a Poor Law Clerk and Clerk to the School Board; G. R. Hedgecock, a 26 year old bootmaker whose sister married one of William Winton's sons; and 28 year old A. A. Peggram a jeweller and watchmaker. Other members included well known Shoreham names such as Woolgar, Gates, Payne and Brooker and even non-members are mentioned where they were involved with Bachelors' Hall.
Certain events during 1885 – 1891 are described including two cycle races, the first on 26th June 1888 (pages 11 & 12) and another on the 10th July 1888 run from Shoreham to Bramber railway station and back. The following 1930's newspaper cutting (also from the Winton Collection) reproduced a photograph of the time although the year of the race seems to be misquoted. In any event Arthur Eade was the winner and G. R. Hedgecock came third in what must have been a considerable effort cycling those cumbersome machines all that way.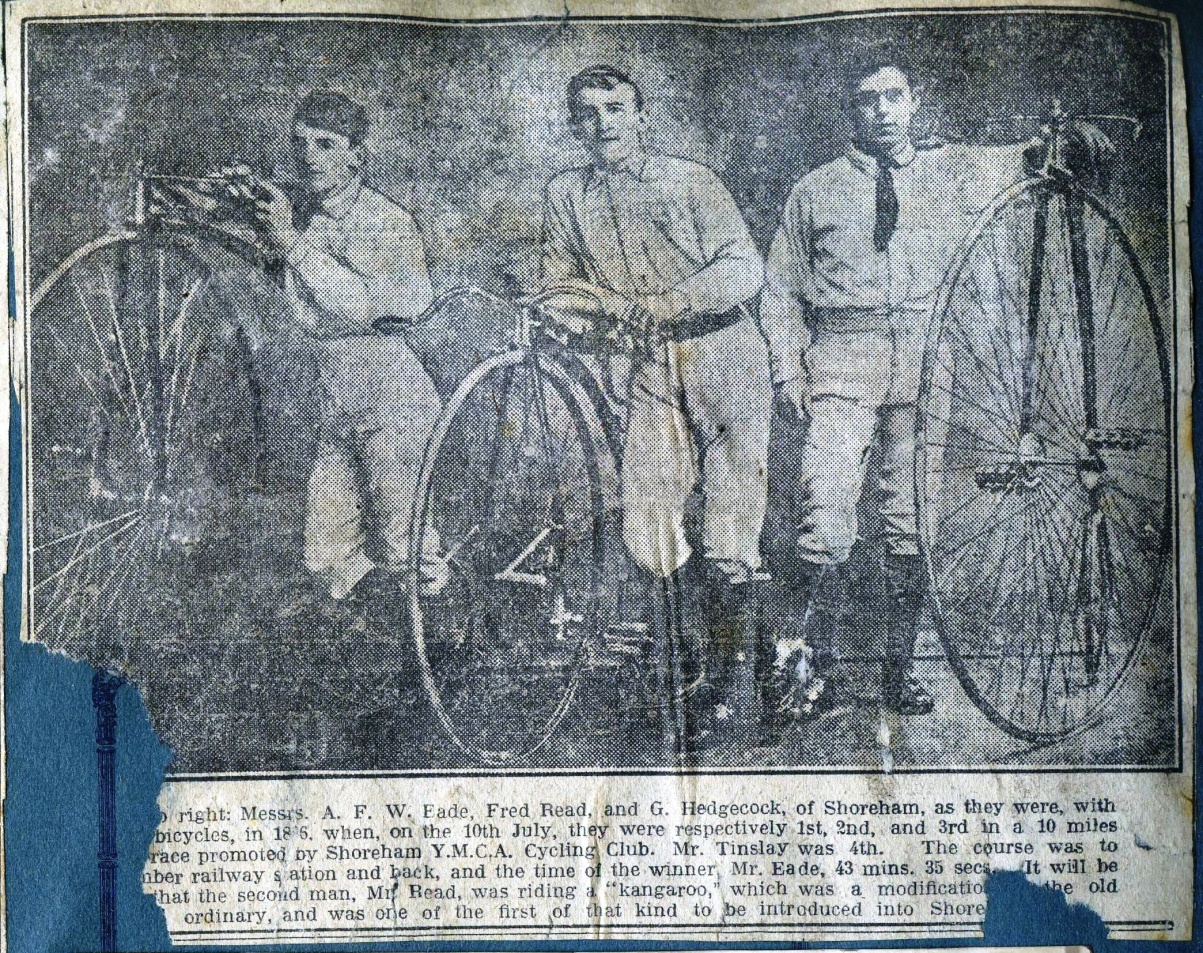 Messrs. Peake, Gates and Brooker also played for Shoreham Football Club during those years and into the early 1900's at a time when Shoreham was a particularly successful county team. Characters such as F.Suter, father of Frank Suter who later became the prominent yacht builder, is gently lampooned as 'Captain Sutaire' due to an apparent difference over payments charged to the Society.
Even in those days some people (particularly the ladies) were put out by the existence of the Bachelors' Hall society but it nevertheless gained the occasional attention of the 'Sussex Daily News' and 'Argus' newspapers whose reports are included in the booklet. There is plenty of scope for further research within these pages but for the writer this is just a brief interlude from the editing and indexing of the Winton Collection – perhaps others may be tempted to complete the task?
Some of the humour in the booklet may seem a little odd to us now but this was over 100 years ago and to give them their due at least the authors are also having an obvious laugh at themselves. They also included an amusing and impossibly hopeful final entry concerning a proposed centenary reunion which, with a relatively recent year of 1991, looks somehow strange to see now.
Roger Bateman
Shoreham
December 2009