Researcher Ken Wilcox's brief but important notes on Shoreham's paddle tugs are a relevant addition to the town's history records that may otherwise have been completely overlooked. This website documents many of the ships built and used in Shoreham but very little on the paddle tug workhorses that during the nineteenth and early twentieth centuries busily assisted those sailing ships in and out of the harbour and even, on occasions, towing our oar-propelled lifeboats to the aid of ships in distress.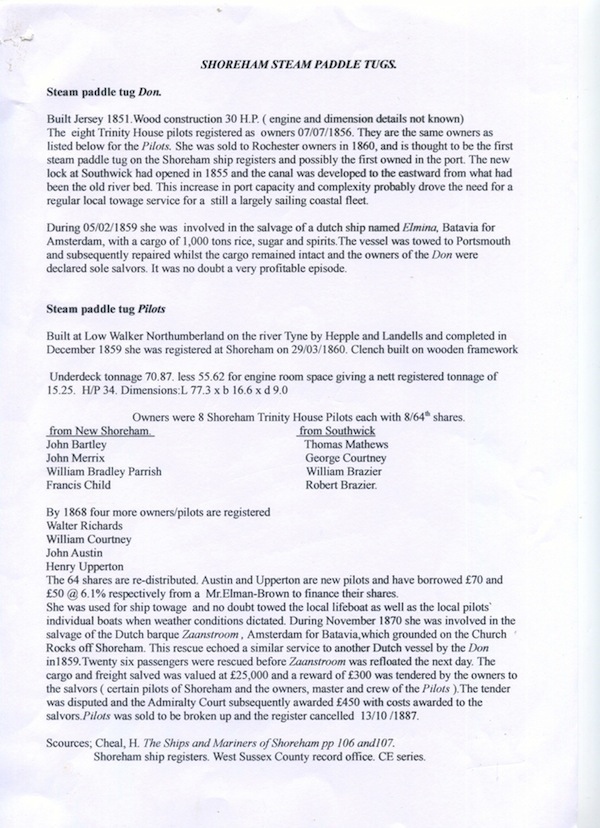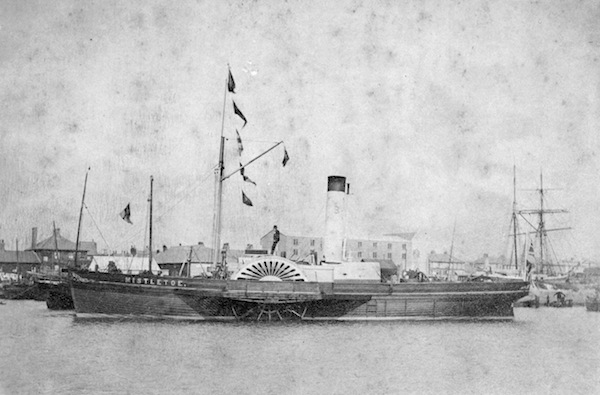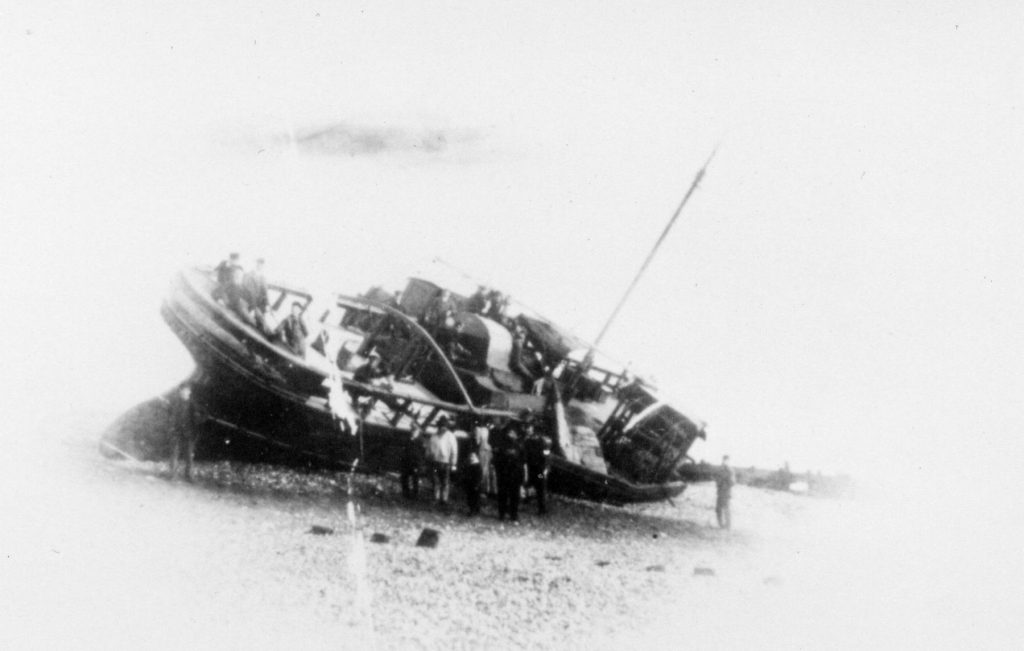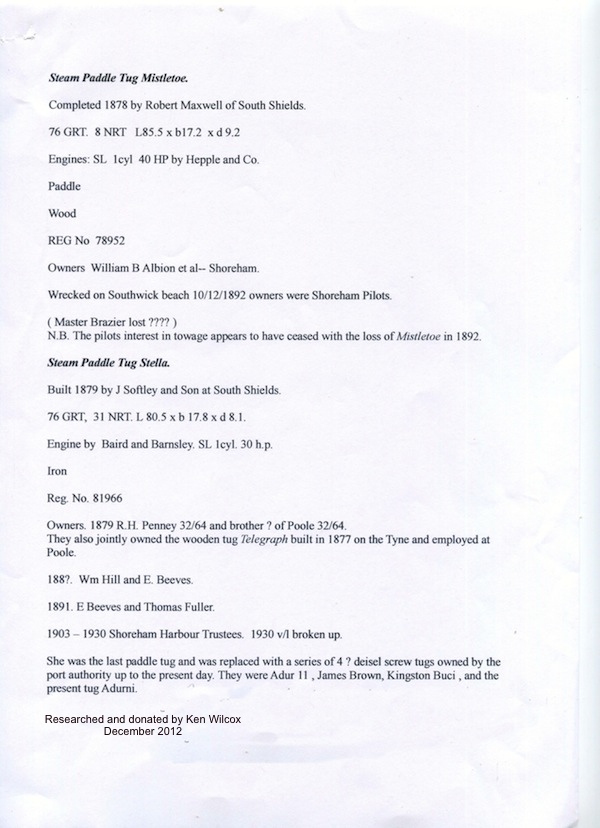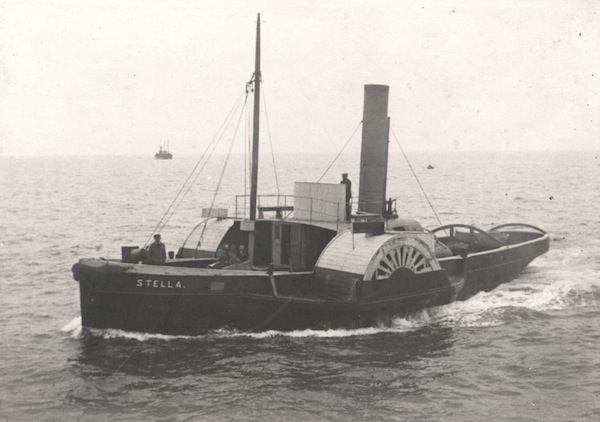 Appendix.
It is probably relevant to include with this article references to the steam tugs Ken Wilcox describes as well as others used at the harbour that have since come to light following recent work on the newspaper project for Shorehambysea.com. Some may have only been occasionally used and at least one does not appear to be paddle propelled but all are nevertheless part of the history of steam tug activity at Shoreham Harbour :-
A new steamer of 110 tons and engines of 45 horse power built at North Shields for a Brighton company fitted with Mr. Smith's patent Archimedes screw propeller arrived at the chain pier from the River Tyne in 48 hours and a half. Intended for plying to adjacent ports and occasional use in towing vessels in and out of Shoreham harbour. Stamford Mercury 4th June 1841.
The above is thought to have been the Princess Royal belonging to the Brighton & Shoreham Company that was used as a pleasure yacht, the cross-channel trade during the summer months and in winter towing ships in and out of the harbour – work for which she had been especially built. In 1842 she is described as being of clinker construction, copper fastened, 39 tons register but capable 120 tons burthen and propelled by two 46 horsepower engines using an Archimedean screw. Sheffield Independent 27th November 1841 and Newcastle Journal 30th July 1842.
Ken Wilcox's 'Quaker Shipowning in the Port of Shoreham c.1824 – 1880' https://www.shorehambysea.com/quaker-shipowning-in-the-port-of-shoreham-c1824-1880.html shows the Princess Royal as 86 feet in length and beam of 16 feet having been built by 'Dowey' in early 1841 and registered in Shoreham on 20th August 1842.
The Shoreham harbour steam-tug (possibly the Don) was called out to assist in the retrieval of a deserted ship, the Adela, 15 miles off Brighton. Hampshire Advertiser 28th February 1852.
An overturned vessel was towed into Littlehampton harbour 'by the steam tug Alice of Shoreham…' Hull Packet 20th August 1852.
The Odin steam tug belonging to the port of Shoreham retrieved another deserted ship the La Joyeuse and brought her to the harbour. Sussex Advertiser 5th February 1856.
The Adur steam tug of Shoreham owned or captained by Mitchell recorded as arriving at the port. Sussex Advertiser 3rd June 1856.
The Don steam tug of Shoreham harbour went to the assistance of a large Dutch ship in distress off Shoreham. Hampshire Advertiser 12th February 1859.
The Pilot steam tug of Shoreham, owner or captain Courly. Norfolk Chronicle 31st December 1859. (perhaps the Pilots and owner Courtney if the names in the newspaper were misprints?)
Finally the tug NEW STOUR makes a brief entry into the records with this recent discovery as well as a rare image of it.
‪Launched: 01/1872
‪Completed: 1872
‪Builder: JP Rennoldson, South Shields
‪Yard Number:
‪Dimensions: 54grt, 3nrt, 65.8 x 17.0 x 8.5 ft
‪Engines: L2cyl (20 & 20 x 40ins), 30nhp
‪Engines By: JP Rennoldson, South Shields
‪Propulsion: Paddle
‪Construction: Wood
‪Reg Number: 22127
‪History:
‪1872 Mayor and Corporation of Sandwich; registered at Deal
‪1893 Thomas Fuller, Shoreham; registered at Shoreham
‪by 1904 Shoreham Harbour Trustees, Shoreham
‪No further history known
(from 'Tyne Tugs and Tug Builders' website http://www.tynetugs.co.uk/index.html )
Also from Tyne Tugs and Tug Builders:-
Pleiades. Completed 1858. Builder Hepple and Landenns, North Shields. 78grt; 16nrt; 84.3×17.1×8.9ft. Engines SL1cyl, 40nhp by Hepple & Landells, North Shields.
Propulsion paddle. Construction iron. Reg.No. 192000.
History:
1858 W. Reay, Portsmouth
1864 W. Ray, London
1866 Richard Morgan et al, Cardiff
1886 William Brazier, Shoreham
1888 Thomas Marlborough Scott, Sunderland; registered at Shoreham
18xx Hepple & Co
1891 Tees Conservancy Commissioners, Stockton
1901 converted to a lighter
1902 Register closed
Brighton. Launched 6/3/1878. Builder Wouldhave & Johnson, North Shields. 100grt,34nrt,105.4×17.5x9ft. Engines L1cyl (29.25x48ins) 28nhp by T.R.Scott & Co, North Shields. Propulsion paddle. Construction wood. Reg No. 78956
History:
1878 William S. Gardner, Painswick, Gloucestershire, registered at Shoreham.
1892 James Lee, Brighton
1896 Brighton, Worthing & South Coast Steamboat Co Ltd (J Lee) Brighton
Operated as a tug (and) excursion steamer.
1903 Register closed.
Royal Albert. Launched 1862. Builder T. Hepple & Son, Low Walker, Newcastle. 65grt, 23nrt, 78.4×16.5×8.7ft. Engines L1cyl, 25nhp probably made by the builder. Propulsion paddle. Construction wood. Reg No. 44286.
History:
15/4/1862 Edward Pearson & Thomas Johnson, South Shields registered at Shields.
1864 George Peter Penney, Poole and registered at Poole,
1878 Robert Horne Penney, Southwick and registered at Shoreham.
23/6/1881 John Dixon Bootiman, Newcastle and registered at Newcastle.
2/8/1884 sank. After leaving Dunbar she foundered 20 miles off St. Abbs Head.
COMET. Launched: 09/07/1880 Completed: 10/1880 Builder: Wouldhave & Johnson, Low Lights, North ShieldsYard Number: 17Dimensions: 54grt, 4nrt, 76.5 x 16.8 x 8.3ft (1882: 13nrt) Engines:SL1cyl (27 x 45ins), 25nhp. Engines By RJ Marshall, South Shields
Propulsion Paddle; Construction Wood. Reg Number:81971
History:
27/10/1880 Robert John Marshall, South Shields; registered at South Shields
1882 Robert Penney, Shoreham & George Penney, Poole; registered at Shoreham but based at Poole
1890Richard E Penney, Shoreham
1894 Woodman Hill, Gosport
11/1906
Hulked at Weymouth for some years before demolition. 11/1906: Broken up at Weymouth
Roger Bateman
January 2014 (updated April 2016 and July 2019)