In 1904 Stow & Sons completed the building of two sister yachts, the Rosalind and the Sylvia and the details for these are included in the list of Stow built yachts on this website https://www.shorehambysea.com/stow-suter-yachts/
Recently we acquired an old postcard of a yacht moored outside Stow's yard and on the reverse is written the date 26th August 1906. The vessel is without much doubt virtually identical to the Rosalind and Sylvia but there is no trace of Stow's launching a yacht that year added to which Lloyds Registers Foundation have been kind enough to thoroughly check their records on our behalf and are able to categorically state that the completion/launch dates of the two yachts is definitely 1904.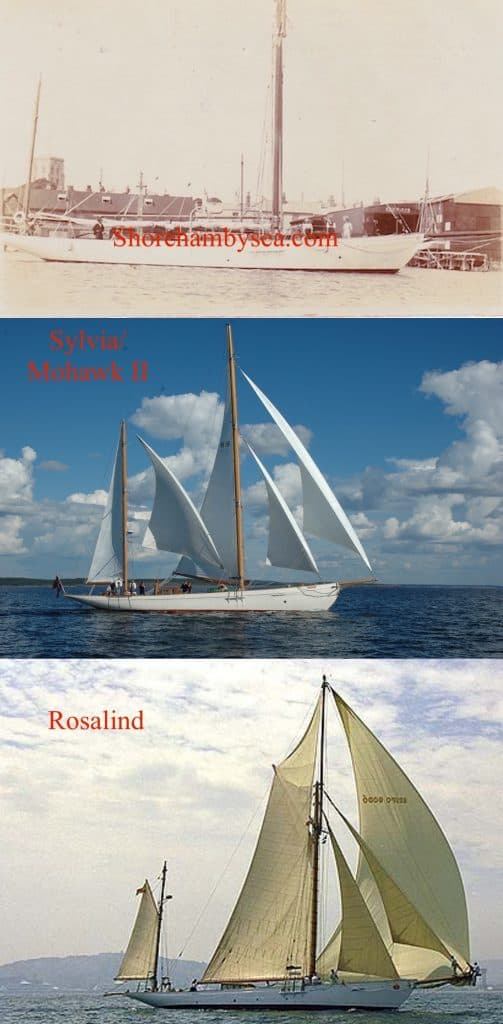 Both yachts are still sailing and, even allowing for possible alterations in the years since, a comparison of the 1906 photo with the modern images reveals a number of similarities, most obvious of which are 1) the close proximity of the mizzenmast to the stern; 2) the mainmast is made up of two sections; 3) the spacing of the 1906 mainmast rigging where it meets the hull is equally spaced – all of which closely match the Rosalind more than the Sylvia (later renamed Mohawk II)
If it is the Rosalind why record a 1906 date on the back? Was it a mistake? Was it another, unrecorded vessel (highly unlikely)? Was there a regatta or other event that year that the Rosalind attended?