A selection of pages from a ledger of the Southdown Golf Club, Shoreham recording competitions and participants from 14th January 1911 to 3rd August 1914.
The Southdown Golf Club started in 1900 and operated from Buckingham barn until 1903, when a new clubhouse opened at what is now the south end of New Barn Lane in Shoreham, England. The British army requisitioned the golf course in 1914 and attempts were made to re-open the course in the mid-1920's and finally a new course was opened in 1935. The clubhouse was an old building at New Erringham, believed to be the former home of farmer Richard Sharpe. The club did not survive the Second World War, and in 1976 the settlement comprised only three mid-20th-century cottages, farm buildings, and the ruins of the original farm house (once the official clubhouse for the golf club).
Players names and various competition events for the club and names of clubs and players they competed against are recorded. The first page is titled Southdown Golf Club, Records, showing scores divided in half; left marked "Amateur, C.B. Cumberledge" and right with the foot of the page states signature and then golfer's name signed, but in the ledger-makers' hand. Also, with marker names J. Piper and S.C. Ganson. Other golfer's names include many noteable figures from Shoreham of the time: I. Gregory Taylor, A. McKenzie, F. Carr, H.F. Gates, H. Flowers, P.E. Tickle, R.H. Russell, L.A. Elliott, D.F.S. Smith, C. Johns (professional), F.D. Thorowgood, P.E. Hill, C. Burt-Brill, J.E. Dell, W.L.A. Lennard, W.C. Hopkins, C.K.A. Congreve, H.L. Dorrell, A.E. Webster, B.F. Ayrton, J.U. Gaskill, W.H. Reeves, R.J. Hutchinson, A.S. Morris, C.H.C. Macgregor, and many many others.
Some of the events titled: Yearly Shoreham Bowl, Monthly Bogey Competition, Monthly Medal Competitions, Open Eclectic Sweepstake, Southdown "Dinner" Cup Competition, Inter-Club Match at Worthing (also with West Hove, Hollingbury, Littlehampton, Goodwood, Eastbourne Downs, Willingdon, Chichester, etc.), "Maxwell Davis" Cup, 18 Hole Medal Competition for the "Rough Riders" Cup (also the "Freeman," "Dick Dell," "Lancing College," "Captains" Cups), Annual Caddies Competition, etc.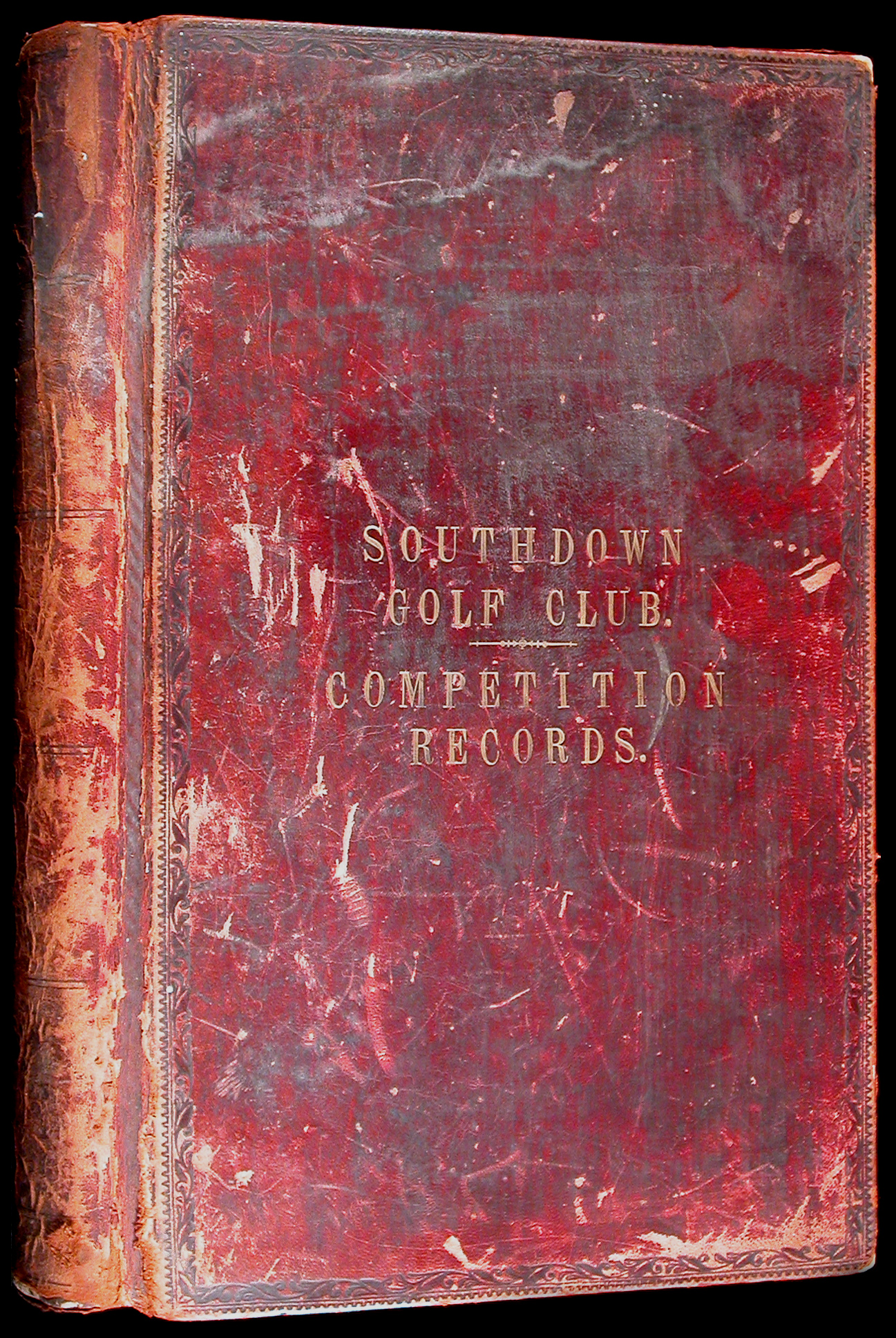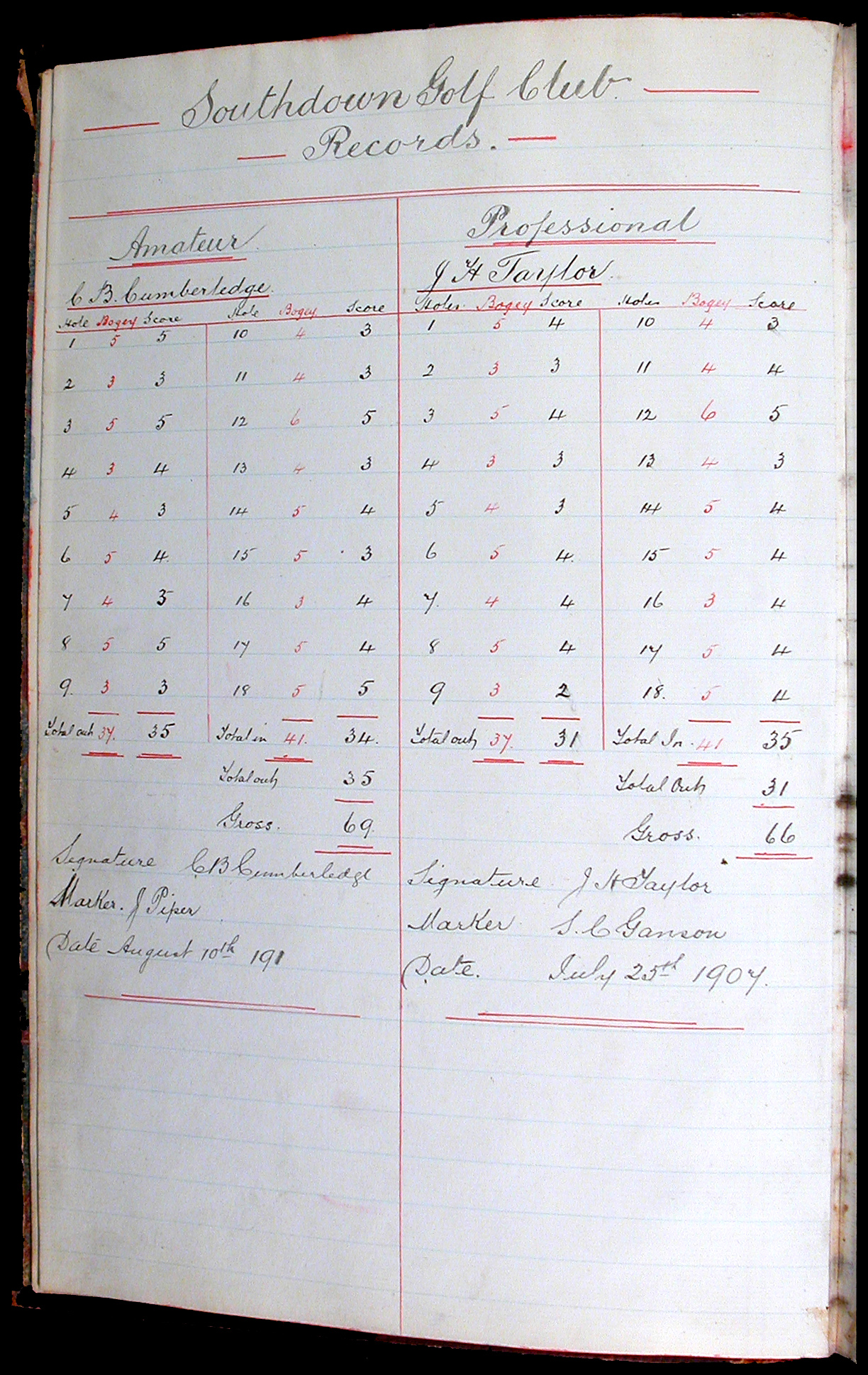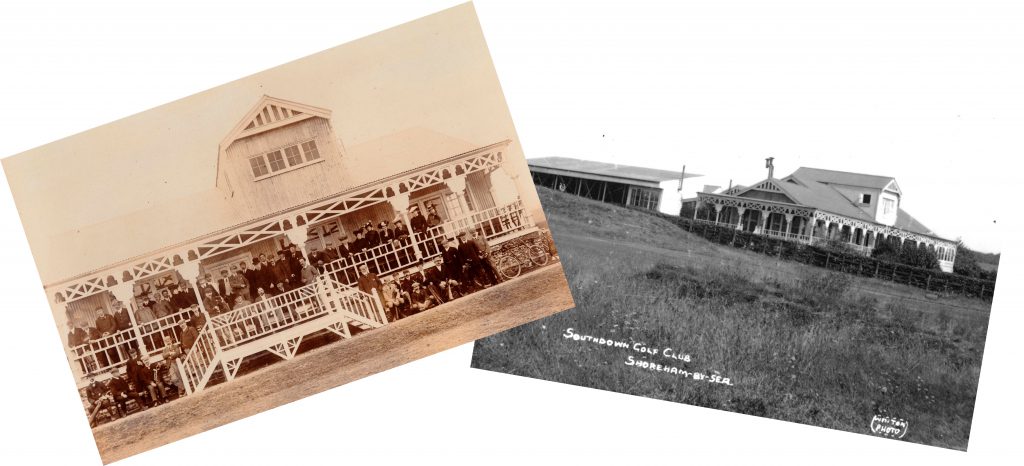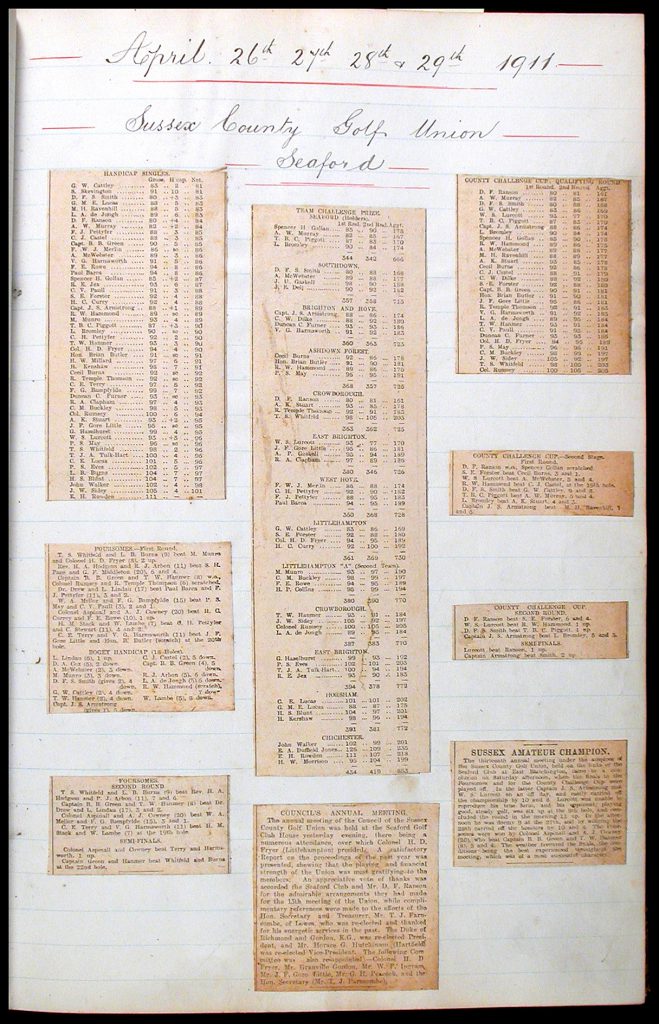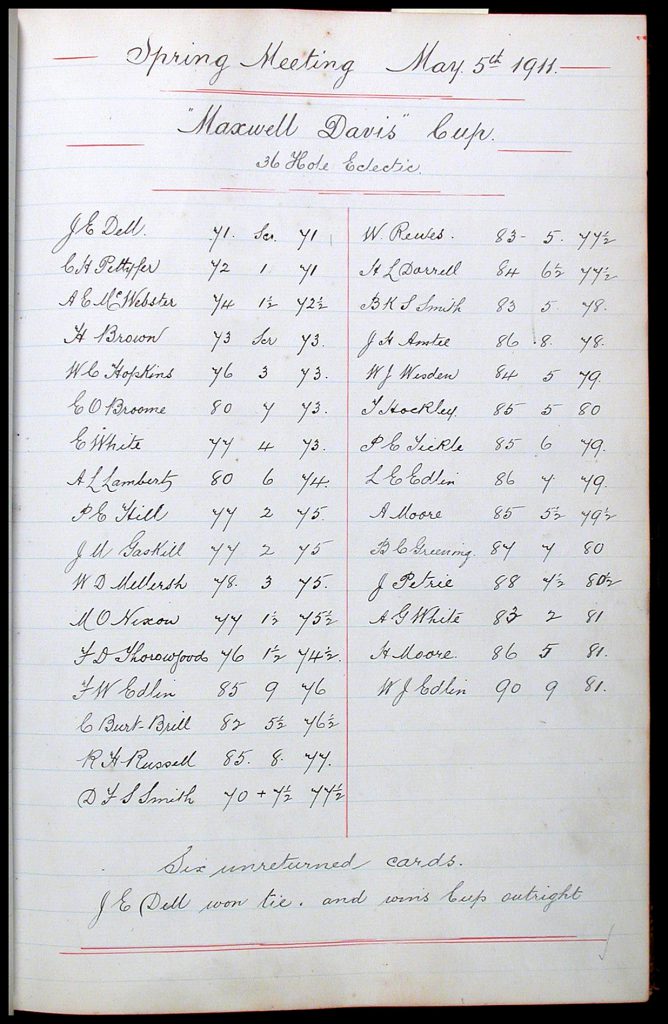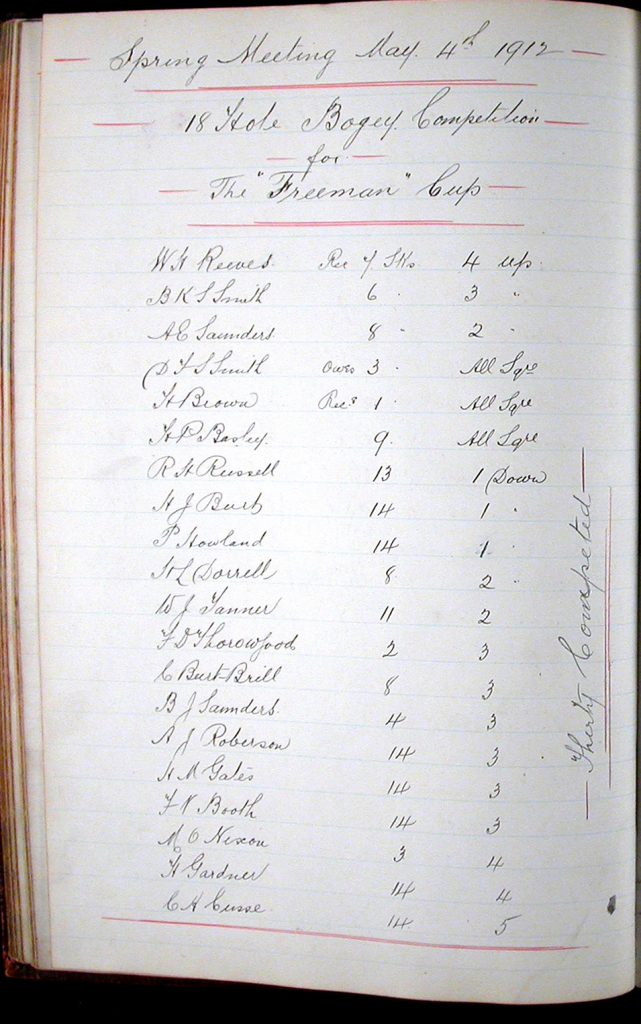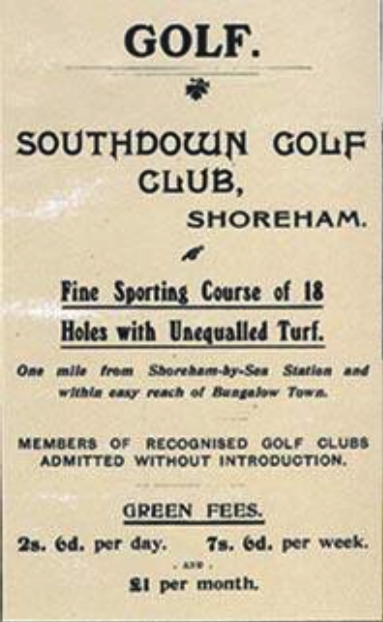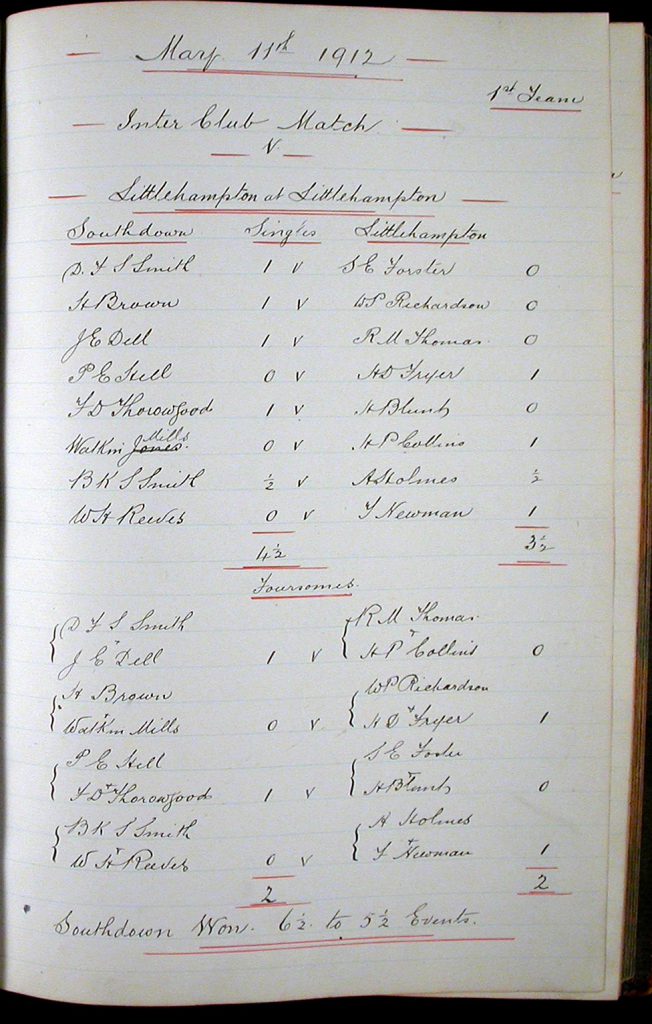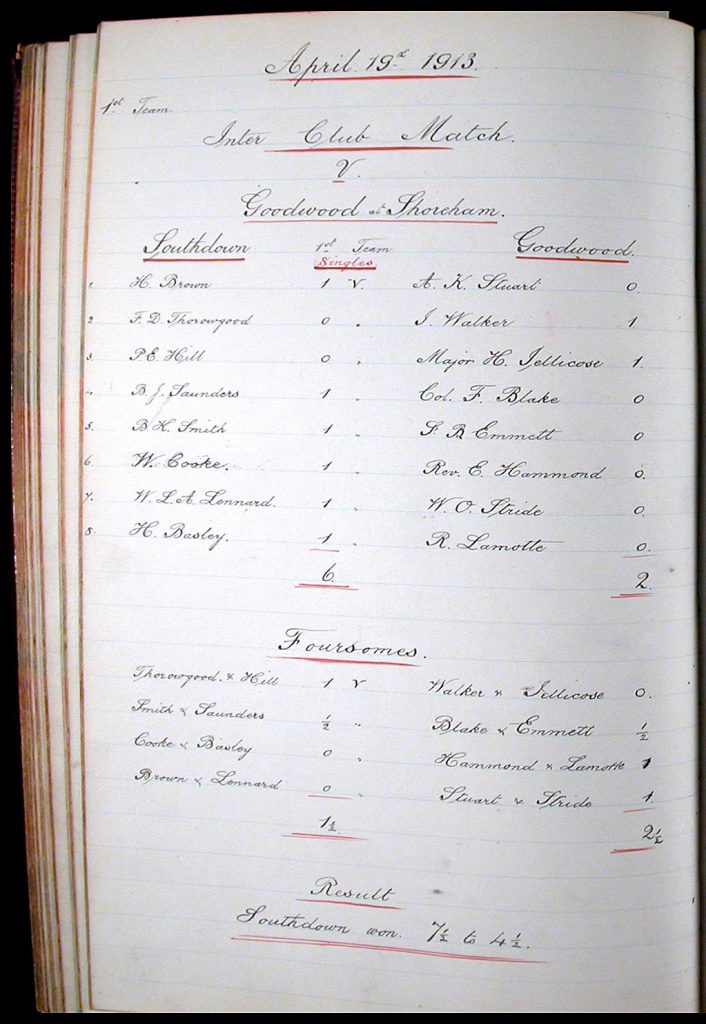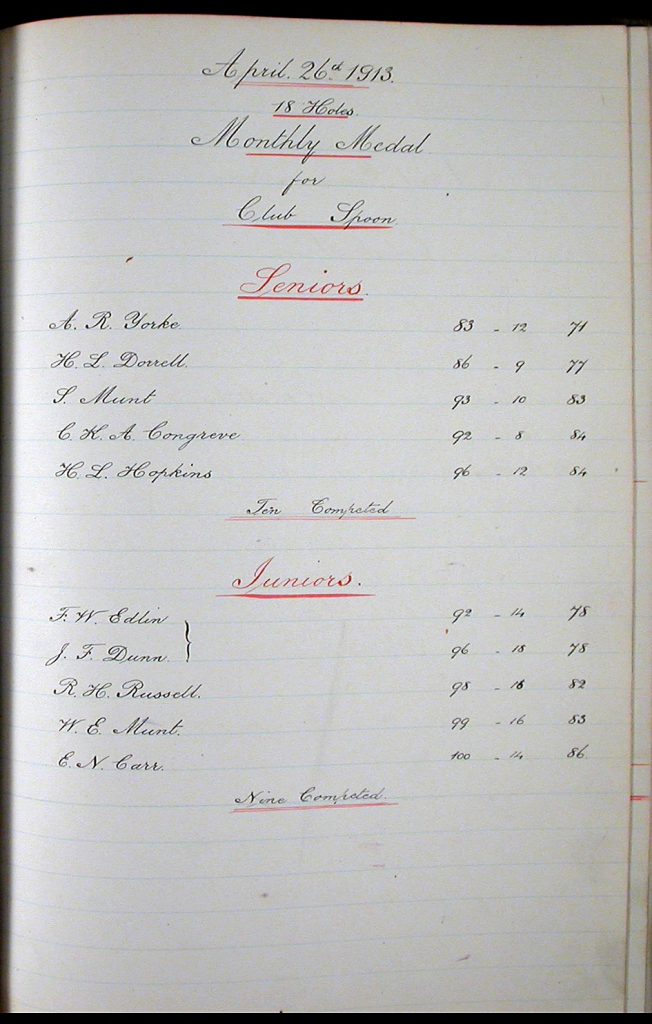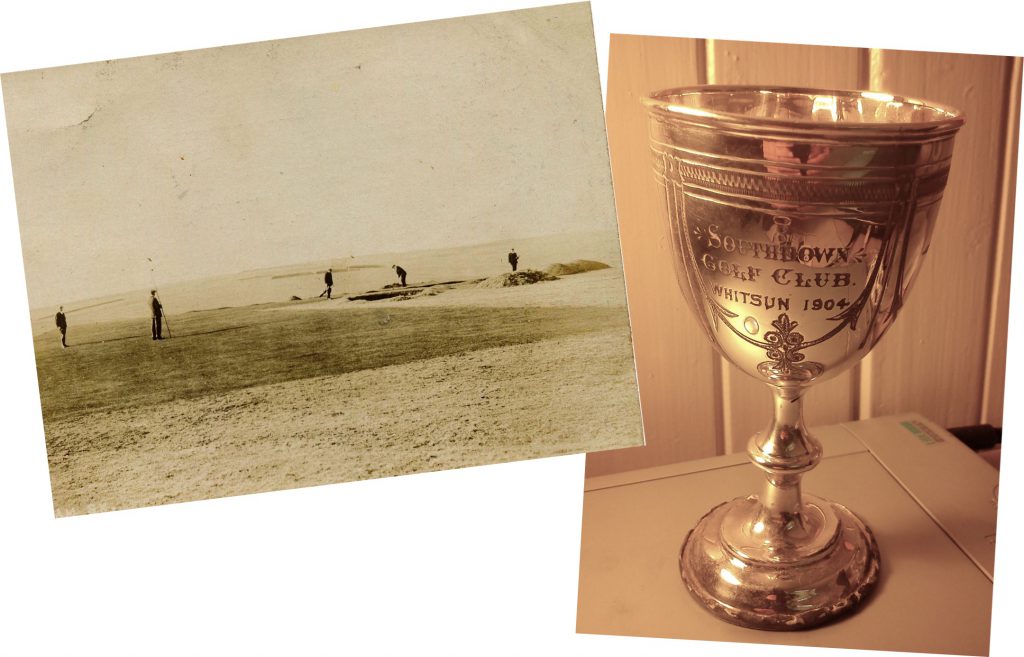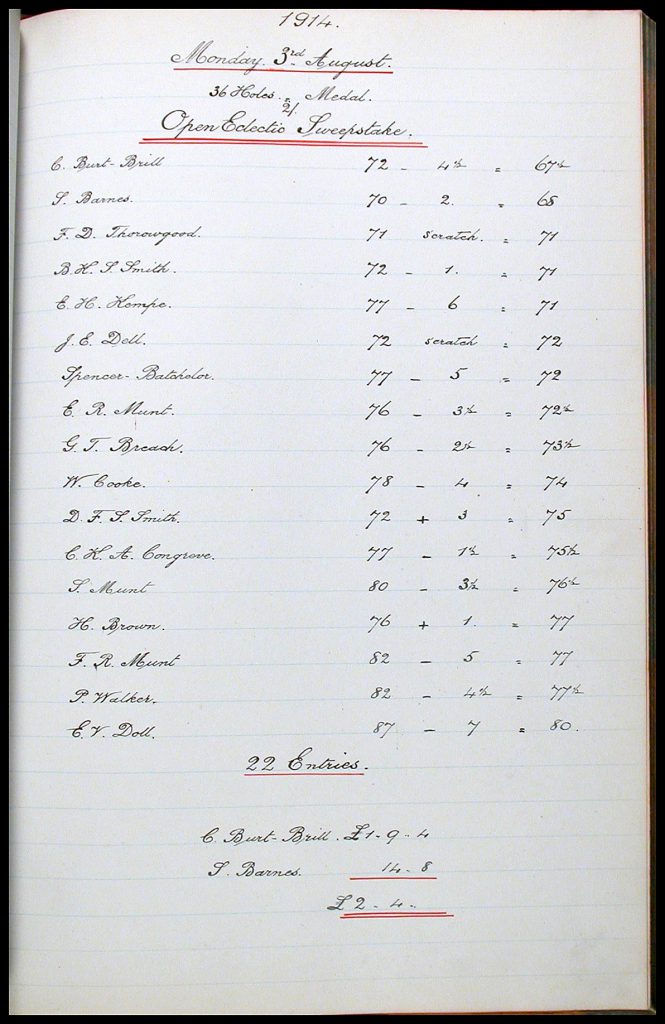 Photos of ledger pages and description from PBA Galleries (U.S.A auctioneers and appraisers).
Cup photo donated by Simon Dell
Other photos from the collections of Doris Steers, Peggy Bailey and Roger Bateman.